Sino-Thai relations boosted by $10.6b rail deal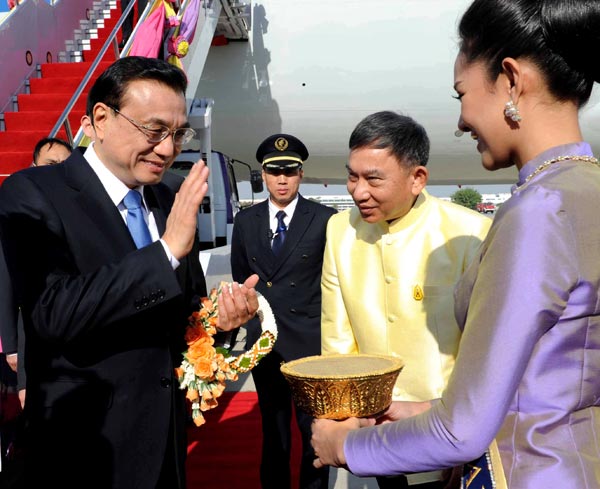 Premier Li Keqiang arrives in Bangkok on Friday to attend the fifth Greater Mekong Subregion Economic Cooperation summit. Photo by RAO AIMIN / XINHUA 
China and Thailand cemented joint cooperation on railways on Friday, taking a step forward in linking regional transportation under Beijing's Silk Road initiative.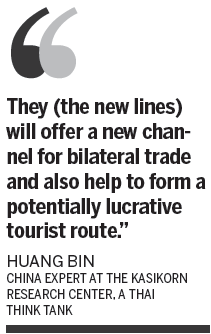 Premier Li Keqiang and his Thai counterpart Prayut Chan-o-cha officiated at the signing of a long-anticipated rail deal that had been postponed because of political turbulence in Thailand.
Under the agreement, Chinese companies will design and build a high-speed line to ease transportation into and out of Bangkok — the second-largest city in Southeast Asia after Jakarta.
The deal, endorsed by the Thai legislative assembly this month, covers the building of dual-track rail lines designed to carry trains running at speeds of 160 to 180 km per hour.
The 734-km project will connect Thailand's Nong Khai province with Bangkok. A 133-km branch line will be built to the eastern province of Rayong.
Thai Transport Minister Prajin Juntong has said that construction research for the lines is expected to start in January or February.
Li, who arrived in Bangkok on Friday on the last leg of a three-nation visit, told Chinese and Thai media that Friday's deal reaffirms agreements signed last year during his visit to Bangkok.
China has rich experience in high-speed rail construction, and the new lines will improve local infrastructure, help Thai exports and offer a new route for Chinese tourists, Li said.
Huang Bin, a China expert at the Kasikorn Research Center, a Thai think tank, said the new lines will link with the planned China-Laos railway and will have a high economic return.
"They will offer a new channel for bilateral trade and also help to form a potentially lucrative tourist route starting in Yunnan province and going on to Vientiane in Laos and Bangkok," he said.
Yang Yong, who is in charge of the China-Thailand rail project at China Railway Corp, said that when Chinese rail lines are connected to those in ASEAN countries, "remarkable economic growth" will be fueled for the regions involved.
For example, Nong Khai province could become a gateway for transporting Thai products to China and elsewhere in the world, as well as an attraction for tourists from Laos, Yang said.
Under another deal signed on Friday, China will double imports of Thai agricultural products — mainly rice and rubber — from the level agreed by the two countries last year, Li said.
The decision was made to deepen Sino-Thai friendship, he said, adding that such cooperation will strengthen the ability of China and Thailand to set aside risks caused by global price turbulence.
Last year, China said it would support its companies in importing 1 million tons of Thai rice in the next five years as well as other produce.
Li, in Thailand to attend the fifth Greater Mekong Subregion Economic Cooperation summit on Saturday, said he will propose cooperation to improve the regional economy, people's livelihoods and environmental protection.
The Greater Mekong Subregion Economic Cooperation Program was started in 1992 by six countries sharing the Mekong River — China, Cambodia, Laos, Myanmar, Thailand and Vietnam. It is aimed at linking the countries through infrastructure improvement, trade and investment.
At this year's summit, regional leaders are due to discuss a railway alliance and an assessment report on a regional transportation strategy.
They will also discuss ways to stimulate subregional cooperation by identifying 92 priority investment projects and passing an investment framework plan.
Xinhua contributed to this story.
Contact the writer at qinjize@chinadaily.com.cn