SCO urged to cut trade barriers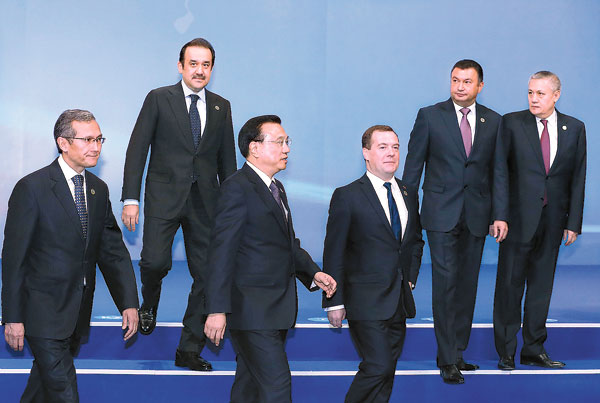 Premier Li Keqiang and Russian Prime Minister Dmitry Medvedev (center), Kazakh Prime Minister Karim Masimov (second left), Tajik Prime Minister Kokhir Rasulzoda (second right), Kyrgyz Prime Minister Almazbek Atambayev (first left) and Uzbek First Deputy Prime Minister Rustam Azimov (first right) attend the 13th prime ministers' meeting of the Shanghai Cooperation Organisation in Astana, Kazakhstan, on Monday. PANG XINGLEI / XINHUA
Premier: Country hopes to help bloc improve their economies
China proposed to help Shanghai Cooperation Organisation countries upgrade their resource-based economies with advanced industrial equipment and financial support to hedge against the impact of plunging oil prices and geopolitical uncertainties.
The organization's six members - China, Russia and four Central Asian countries - signed deals to deepen cooperation in customs, law enforcement and a multilateral economic and trade outline on Monday, following the 13th prime ministers' meeting of the bloc in Astana, Kazakhstan.
Premier Li Keqiang called upon the organization to cut trade barriers, improve the efficiency of customs and open market access among the organization's members. He also announced the start of the selection of projects for the $5 billion China-Eurasia cooperation fund.
Economic growth in Central Asia will continue to decelerate in 2015, hit by deepening geopolitical tensions between Russia and Ukraine, the International Monetary Fund said last month.
"China is willing to cooperate with all the members in the organization in the same way as we are working with Kazakhstan," Li told government heads at the meeting on Monday. "The state members are in a transitional period to sustain growth while restructuring the economy. We'd invest in steel, cement, electricity and the deep-processing of resources to help local economies while transferring China's overcapacity."
The regional bloc, founded by China, Russia, Kazakhstan, Tajikistan, Kyrgyzstan and Uzbekistan, contains three-fifths of the Eurasian continent and one-fourth of the world's population. Afghanistan, India, Iran, Mongolia and Pakistan are observers, and Belarus, Turkey and Sri Lanka are dialogue partners.
Total economic output of the region took up 14.9 percent of the world economy, compared with just 4.8 percent in 2001. China's trade with the other five state members jumped from $12.1 billion in 2001 to $130 billion dollars in 2013.
At Monday's meeting, Kazakh Prime Minister Karim Masimov said that as the Kazakh government tries to reduce the side effects of the international economic turbulence through strengthening cooperation with state members of the SCO, Beijng's proposal to build a Silk Road Economic Belt is particularly favorable to the region.
Xing Guangcheng, a researcher at the Chinese Academy of Social Sciences, said security and economic cooperation are the two wheels of the regional bloc, and tumbling energy prices, geopolitical tension and looming deflation have compelled regional members to join hands to prop up growth.
"But such cooperation remains underdeveloped compared with their exchanges on regional security. Opportunities lie in Beijing's proposal to build a Silk Road Economic Belt, as well as in the fact that, as the world's second-largest economy, China can serve as the gateway to the Asia Pacific region for other member states," Xing said.
Contact the writers through zhaoyinan@chinadaily.com.cn