Beijing poised to sign historic treaty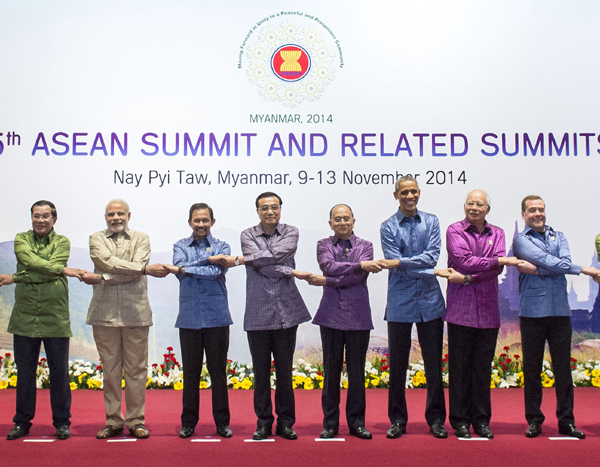 Premier Li Keqiang and other leaders pose for a group photo for the ASEAN summit at the Myanmar International Convention Center in Myanmar's capital, Nay Pyi Taw, on Wednesday. [Photo/Xinhua]
Closer ties within ASEAN seen as easing tensions over South China Sea
China is forging closer ties with ASEAN, with a historic treaty likely to be signed - the first between the bloc and the country - as Premier Li Keqiang arrived in the Myanmar capital Nay Pyi Taw on Wednesday to start a three-day visit.
Myanmar is hosting an ASEAN meeting and the East Asia summit that will draw a number of world leaders, including US President Barack Obama.
Experts said the increasing closeness, in economic terms, between China and ASEAN countries will help ease tensions over the South China Sea.
Ruan Zongze, vice-president of the China Institute of International Studies, said China and ASEAN members could sign a cooperation treaty during the China-ASEAN meeting on Thursday.
If signed, the treaty will formalize the mutual friendliness between China and ASEAN countries, as well as ease maritime tensions.
"This treaty would definitely be a leap forward in bilateral relations," Ruan said. "It will mean a great deal to regional stability."
But Ruan also stressed that economic matters are a priority in ties between China and ASEAN because both are pushing for an upgraded version of the China-ASEAN Free Trade Area with wider market access.
The first talks on the upgraded version of the CAFTA were held in Hanoi, Vietnam, in September; the next round is to be hosted by China in 2015.
China has been ASEAN's leading trade partner for five consecutive years, and ASEAN trade accounted for more than one-tenth of China's total imports and exports. Bilateral trade hit $346.4 billion from January to September this year, up 7.5 percent year-on-year.
Kaewkamol Pitakdumrongkit, an assistant professor at Singapore' s Nanyang Technological University, believes China-ASEAN cooperation will further improve with initiatives like the Asian Infrastructure Investment Bank and the Silk Road Fund.
"China has already bankrolled many regional projects," he said.
By the end of September, two-way investment had reached $123.1 billion, and China and ASEAN have cooperated on a variety of projects, including energy generation, construction, agriculture and manufacturing.
President Xi Jinping has pledged $40 billion to a new Silk Road Fund to invest in infrastructure, resources and industrial and financial cooperation across Asia, and many of the ASEAN members are located along the 21st Century Maritime Silk Road.
In addition, Beijing has promised to provide half of the AIIB's $50 billion startup capital to help build ports, roads, power projects and other desperately needed infrastructure across the region.
Nine of the 10 ASEAN countries signed a memorandum in Beijing, enabling them to join the AIIB as founding members. Indonesia, the only ASEAN country that has yet to sign up for the bank, said it expects to join.
Yang Yi, secretary-general of the China Institute of International Studies, said China is promoting strategic cooperation partnerships that will boost regional development.
The overall situation in the South China Sea is stable, Yang said, as "we don't see any problems with freedom of navigation".
China has always ensured ASEAN relations were a priority, Yang said, and Beijing will continue to adhere to the path of peaceful development to the benefit of both.
"At a time when the world faces many challenges, regional peace and stability are increasingly crucial," he said.
Contact the writers at zhaoyinan@chinadaily.com.cn and zhaoyanrong@chinadaily.com.cn