Connectivity key to bolster links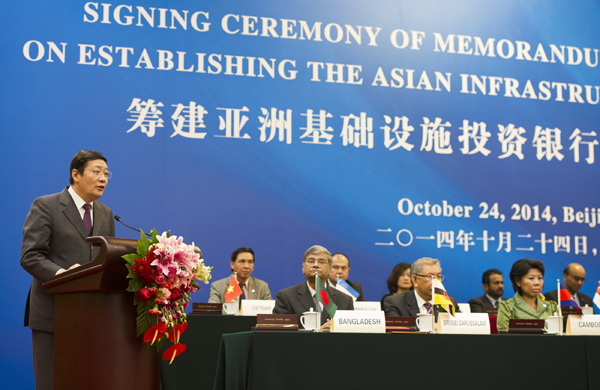 Finance Minister Lou Jiwei addresses members during the signing ceremony of the Asian Infrastructure Investment Bank at the Great Hall of the People in Beijing on Oct 24. The bank will develop regional business activity through better-developed transportation facilities. [Photo/Xinhua]
Blueprint will cover hardware, software and people-to-people exchanges among its members
Asia-Pacific economies will count on enhanced regional connectivity to stimulate trade and attract investment as they pursue decisive measures to improve regional economic integration.
Assistant Minister of Commerce Wang Shouwen said that regional connectivity is among the 21 member economies' top priorities when it comes to promoting comprehensive development in infrastructure, investment, regional trade and tourism.
Wang said that China wants to speed up the formulation of the APEC Blueprint on Connectivity, which involves hardware, software and people-to-people exchanges to provide a strong foundation for the Asia-Pacific region's long-term development.
"The blueprint will be helpful in addressing the achievements and challenges to connectivity in this region, as well as key initiatives for enhanced APEC connectivity and strategies for implementation," said Wang.
Hardware (or physical connectivity) includes maritime, land and air transport, energy infrastructure, telecommunications and information and communication technology.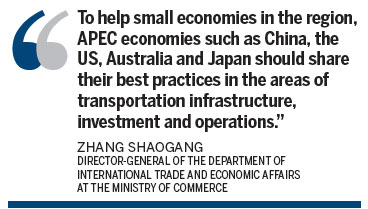 Software (or institutional connectivity) comprises customs, supply chains, finance, regulatory coherence and structural reform.
People-to-people connectivity includes business mobility, student and researcher mobility, tourism facilitation, labor and professional mobility and cross-border education.
Yu Ping, vice-chairman of the China Council for the Promotion of International Trade, said that the top priority is to establish a flexible physical transportation network throughout the Asia-Pacific region to further stimulate economic growth.
"The APEC economies, particularly those in Southeast Asia and South America, such as Vietnam, Indonesia, Peru and Chile, are building new platforms for broader cooperation with major APEC economies," said Yu.
These platforms include upgraded logistics services, giant international shipping companies, new air routes, pipelines, port facilities and land and sea telecommunications.
"From a long-term view, the new mechanism will fully support trade, private investment, industrial productivity and the service sector in the APEC region," said Phaichit Viboontanasarn, commercial minister at the Thailand Embassy in Beijing.
Chen Yingming, executive vice-president of the Shanghai-based China Port and Harbors Association, said that rail, road and sea connectivity projects between Singapore and Malaysia this year set an example for the development of similar routes among the APEC economies.
APEC leaders agreed in Singapore in 2009 to commit to enhancing transportation routes to promote regional connectivity.
And in addition to APEC members, 21 Asian countries - including Bangladesh, Brunei, Cambodia, China, India, Kazakhstan, Kuwait, Laos and Malaysia - signed a memorandum of understanding last month in Beijing to establish the Asian Infrastructure Investment Bank. The bank will develop regional business activity through better-developed transportation facilities.
The bank will be an inter-governmental regional development institution in Asia. As agreed, Beijing will be the host city for the AIIB's headquarters. It is expected that the prospective founding members will complete the signing and ratification of the articles of agreement in 2015 and the AIIB will be formally established by the end of 2015.
APEC economies, especially China, South Korea, Thailand and the United States, are keen to encourage people-to-people connectivity to drive advances in the educational sector and assist member nations or regions to better respond to natural disasters such as extreme weather, earthquakes and tsunamis.
APEC developed a business travel card in 1996. Holders of the card can travel visa-free among APEC member economies.
According to the Ministry of Foreign Affairs, plans have been made to set up an emergency response travel card to allow for fast response by APEC member economies to disaster zones to facilitate local economic and infrastructure recovery.
Zhang Shaogang, director-general of the Department of International Trade and Economic Affairs at the Ministry of Commerce, said that improving connectivity among governments, multinational corporations and influential academic institutions can be a way to optimize the industrial structure.
"To help small economies in the region, APEC economies such as China, the US, Australia and Japan should share their best practices in the areas of transportation infrastructure, investment and operations," Zhang said.
However, regional connectivity means huge private and government investment in infrastructure and ancillary projects, and raising funds takes time.
In the current global economy, Zhang said the risks may stay high, as there are heavy concerns about the feasibility and profitability of large-scale building and bridge projects.
zhongnan@chinadaily.com.cn