Stronger ties with ASEAN a boon to Guizhou University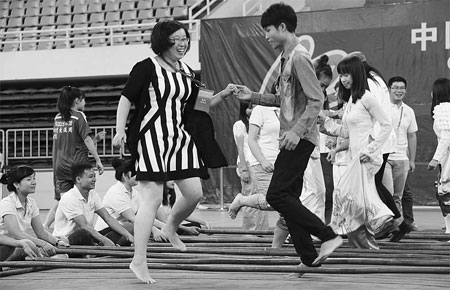 Students from Thailand, Vietnam, Laos and Cambodia take part in a sports event featuring traditional bamboo dancing at Guizhou University in Guizhou province on Sept 2. Provided to China Daily
Meas Bona started to teach himself Chinese in Cambodia when he was a boy. At that time, Chinese kung fu movies motivated him.
"I really like Jackie Chan and Bruce Lee," he said, mimicking his idols' gestures in the movies.
At the age of 25, Bona has finally fulfilled his dream of coming to China as one of more than 400 international students at Guizhou University.
"More than half of the international students in our university come from Southeast Asian countries," said Zhang Chengxia, vice-dean of the College of International Education at Guizhou University, adding that most of the international students received scholarships from the Chinese government.
Since 2008, when the first China-ASEAN Education Cooperation Week was held in Guizhou province, Guizhou University has started to provide financial aid to students in ASEAN countries. Before 2008, the number of international students from ASEAN countries was only about 50.
"The class of 2008, the first group to benefit from the education cooperation, has graduated. The majority of the students have returned to their homeland and received decent job offers," Zhang said. "They have become ambassadors of Chinese culture."
At the seventh China-ASEAN Education Cooperation Week held in the first week of September, education officials from China and ASEAN countries called for more cooperation in higher education, encouraging more Chinese universities to reach out, conduct international cooperation programs and open overseas campuses in ASEAN countries.
Guizhou University is benefiting from the annual program, forging international cooperation with overseas universities. The number of international students from ASEAN countries has increased annually by 17 percent.
Zheng Qiang, president of the university, said the university focuses on teaching local development, aiming to build a foundation to train international students from ASEAN countries.
He believed that the advantage of Guizhou University is the proximity of its location to, and ties with, ASEAN countries.
ASEAN countries are the main foreign trade partners of Guizhou province thanks to the China-ASEAN free trade zone.
Zheng said that as the bilateral economic cooperation between China and ASEAN countries has improved, the trust between China and ASEAN countries regarding young people should also be improved.
It should not be limited to talks between government officials and school leaders, but it should involve a mutual trust among schools, Zheng said.