Asia-Pacific countries need to strengthen cooperation due to the current international financial situation, Chinese Foreign Ministry spokesman Liu Weimin said Friday.
This year is the 40th anniversary of the normalization of diplomatic relations between China and Japan. But the Diaoyu Islands issue makes this year different.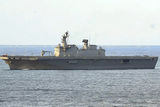 There are about 170 commissioned ships (with a total displacement of about 181,000 tons) in the ROK Navy, including some 20 destroyers and frigates.