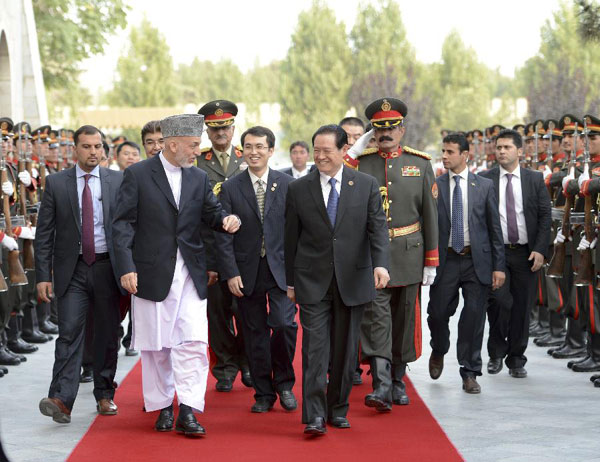 Zhou Yongkang(R, front), a member of the Standing Committee of the Political Bureau of the Communist Party of China Central Committee, holds talks with Afghan President Hamid Karzai (L, front) in Kabul, Afghanistan, Sept 22, 2012. [Xinhua]
KABUL - China's top security official on Saturday made a surprise visit to Afghanistan, the first time in 46 years that a Chinese leader set his foot on the soil of this landlocked Asian country.
Zhou Yongkang, a member of the Standing Committee of the Political Bureau of the Communist Party of China (CPC) Central Committee, arrived at the Kabul airport late in the afternoon.
The four-hour visit had not been announced by Beijing due to security concerns. It followed a two-day trip of Zhou to Singapore, where he met Singaporean leaders on bilateral ties.
Zhou, who is also secretary of the Committee of Political and Legislative Affairs of the CPC Central Committee, will also go to Turkmenistan.
The last visit by a Chinese leader to neighboring Afghanistan was made by Liu Shaoqi in 1966 when he was the President of China.
During the past half century, Afghanistan was afflicted with series of military coups and two major wars commenced by the former Soviet Union and the United Statesrespectively.
The country is still the front line in the US-led war against terrorism and is undergoing daily bombing and bleeding.
In Kabul, Zhou was warmly received by Afghan President Hamid Karzai. The two leaders held a bilateral meeting.
"It is a priority of China's foreign policy to strengthen good- neighbored relations with surrounding countries. It is the consistent policy of the Chinese government and the CPC to consolidate and develop China-Afghanistan relations," Zhou said, according to a press release from the Chinese delegation.
Zhou said China is willing to make due contributions to peace and stability in Afghanistan, which is at a critical transition period.
"We will continue to provide assistance to Afghanistan with no attached conditions and sincerely hope the Afghan people can regain peace as soon as possible and build a better home in a peaceful environment," he added.
The United States has said that Washington and its allies will completely withdraw their troops from Afghanistan by 2014, leaving the country to stand on its own.
Karzai said Afghanistan would like China to be involved in its reconstruction efforts and is expecting China to play a bigger role in the peaceful development of Afghanistan and the region.
Official figures showed that by the end of 2011, China's direct investment into Afghanistan stood at about $200 million and the aggregate contract value of projects undertaken by Chinese constructors in Afghanistan reached nearly $600 million. In addition, about 20 China-aided projects in Afghanistan were completed between 2002 and 2011.
Karzai said China is among the first batch of countries that invested in Afghanistan, which brought concrete benefits to the Afghan people, and Afghanistan welcomes China to expand investment.
The two leaders also discussed other major issues including terrorism, drug trafficking and transnational crimes, which are threatening regional peace and stability. They pledged to keep effective cooperation in those areas.
China and Afghanistan established diplomatic relations in 1955.
The two countries decided in June to upgrade their ties to the level of a strategic and cooperative partnership at a meeting between Chinese President Hu Jintaoand Karzai in Beijing, marking a new step for the development of bilateral relations.
Zhou said his visit is aimed to push forward the new partnership.