TOKYO - Japan's ruling party on Wednesday proposed extending parliament for 70 days to try to pass key bills as the nation strives to recover from an earthquake, tsunami and nuclear crisis, media said, but there was no guarantee the opposition would cooperate while the country's unpopular premier clings to his post.
The prolonged political stalemate risks slowing efforts to recover from the disaster and delaying vital reforms, including changes to social security and tax systems to curb huge public debt and policies to engineer growth in a fast-ageing society.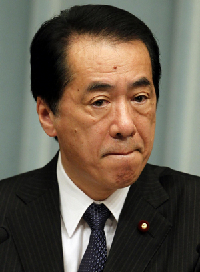 Japan's Prime Minister Naoto Kan listens to a question during a news conference at his official residence in Tokyo in this May 10, 2011, file photo. Kan may announce on Monday that he will resign on condition of key bills passing a divided parliament, Kyodo news agency reported.[Photo/Agencies]
Prime Minister Naoto Kan, under fire for his response to the disaster, pledged this month to step down in order to quell a rebellion in his Democratic Party of Japan (DPJ) and survive a no-confidence vote, but the premier -- already Japan's fifth leader in five years -- he has declined to say when he will depart.
The ambiguity has angered opposition parties, whose backing is needed to pass bills in a divided parliament, as well as Kan's critics in the Democratic Party, who are now dragging their feet over proposals to raise Japan's 5 percent sales tax to fund rising social security costs and tackle public debt.
Japanese media said Kan, 64, wants to stay on at least long enough to enact a bill enabling the government to issue bonds to fund about 40 percent of a $1 trillion budget for the fiscal year that started on April 1, a small extra budget to help with recovery from the tsunami, and measures to promote renewable energy sources in the wake of the nuclear crisis.
A third extra budget, expected to top 10 trillion yen ($125 billion), will likely be submitted to parliament in late August or early September, the media reports said.
DPJ executives had tried to persuade Kan to clarify when he would quit in order to make it easier for opposition parties to cooperate, but the premier rejected the plan, media said.
FEED-IN-TARIFF FEVER
Secretaries-general of the ruling and opposition parties were to meet later in the day to discuss extending parliament, whose current session is set to end on Wednesday.
Kan, who has promised to more than double the percentage of electricity from renewable sources such as solar and wind power to over 20 percent of the total supply by the 2020s, wants parliament to pass a bill introducing a feed-in-tariff scheme obliging utilities to buy electricity from all types of renewable sources.
"There are lots people in parliament who don't want to see my face. If so, they should quickly pass this bill," a feisty Kan told a group of MPs and green energy activists last week.
Proponents of renewable energy agree the scheme is vital to expanding their scope. But Kan's addition of the scheme, under which utilities would be able to pass on extra costs to end-users, to the list of tasks he wants to accomplish before stepping down is irking both the opposition and his DPJ critics.
"The biggest reason for the political confusion is that the prime minister, who has said he will step down, is bringing up new policy issues and merely trying to extend his political life," said a commentary in the Nikkei business daily.
A 70-day extension would allow enough time for the ruling bloc to try to enact bills rejected by the upper house, which is controlled by the opposition, by overriding the chamber with a two-thirds majority in the lower house. Even so, the DPJ would need backing from some opposition members since the party lacks a two-thirds majority in the lower house.
Analysts say Kan is betting opposition parties will eventually cave in and agree to pass legislation rather than risk public ire over delays as the devastated northeast struggles to recover from the March 11 quake and tsunami. ($1 = 80.270 Japanese Yen)