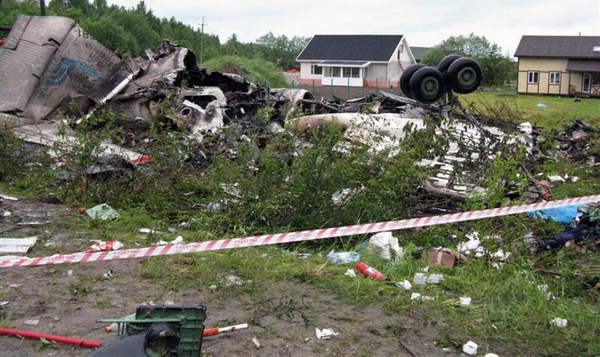 A view shows the site of a plane crash near the airport outside the northern Russian city of Petrozavodsk June 21, 2011. At least 44 people were killed and eight injured when a passenger plane broke up and caught fire on coming into land in fog in north-western Russia, an Emergency Ministry spokeswoman said Tuesday.[Photo/Agencies] 
MOSCOW -- Russian authorities said Tuesday the cause of Monday's crash of a Tu-134 passenger plane may be that the plane had hit a power line while landing, according to the Itar-Tass news agency.
Nikolai Fedotov, top safety official in Russia's northern republic of Karelie, told the agency the hit caused a blackout of the ground lighting system.
It was foggy at the time when the plane was preparing to land, Fedotov said, adding that the ground control had ordered the crew to make another circle at the height of 110 meters before landing, but the plane hit the power line along the airport highway.
The head of the Petrozavodsk airport authorities, Alexei Kuzmitsky, cited the same reason as Fedotov. "The Tu-134 hit a power line due to pilot error, cut it, depriving the runway of power," he said.
Witnesses said the plane also damaged a car when it landed one kilometer away from the Petrozavodsk airport, but no occupants of the car are reported to have been killed.
In the meantime, the plane's black boxes have been located.
RussAir officials said that the plane, made in 1981, had been completely checked before take-off and there had been no technical problems with the aircraft.
A total of 44 people were killed onboard the plane en route from Moscow's Domodedovo airport to Russia's northwest city of Petrozavodsk, the administrative center of Karelie.