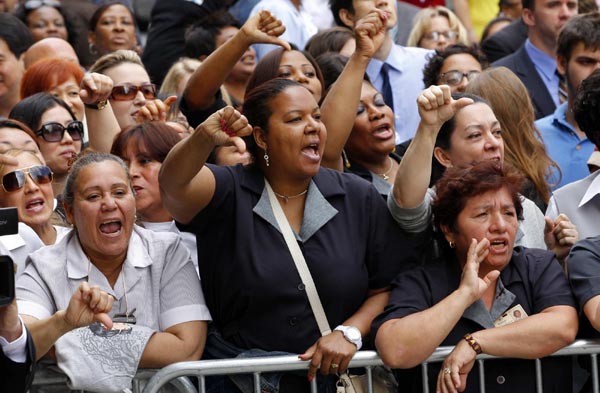 New York City union hotel workers protest as former IMF Chief Dominique Strauss-Kahn and his wife Anne Sinclair leave Manhattan Criminal Court after Strauss-Kahn's arraignment hearing in New York June 6, 2011. Strauss-Kahn pleaded not guilty on Monday to charges he sexually assaulted a New York hotel maid in a case that cost him his job and a chance at the French presidency. Strauss-Kahn, 62, faces up to 25 years in prison if convicted on charges including attempted rape, sex abuse, a criminal sex act, unlawful imprisonment and forcible touching.[Photo/Agencies]
NEW YORK - The hotel maid who former IMF chief Dominique Strauss-Kahn is accused of sexually assaulting will testify against him should the case go to trial, a lawyer for the woman said on Monday.
"She is going to come into this courthouse, get into that witness stand and tell the world what Dominique Strauss (Kahn) did to her," Kenneth Thompson, a lawyer for the woman, told reporters outside court.
Strauss-Kahn pleaded not guilty in New York Supreme Court on Monday and the case is expected to go to trial.