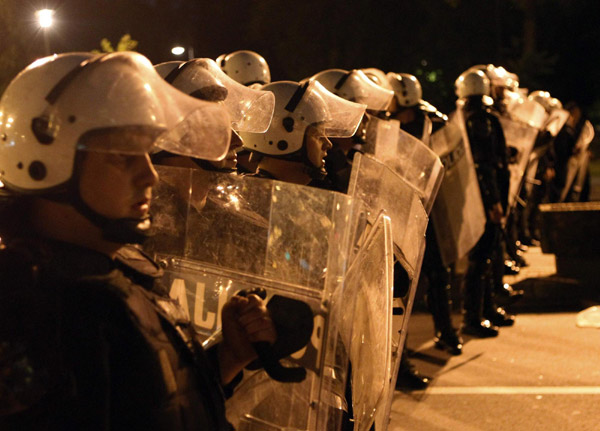 Riot police block the street to control the crowd during a protest by the Serbian Radical Party against the arrest of general Ratko Mladic in Belgrade May 29, 2011. [Photo/Agencies] 
BELGRADE - Serbia may send Ratko Mladic to face genocide charges in The Hague within four days, a justice official said on Monday, despite riots by nationalists angry at the Bosnian Serb general's capture after 16 years on the run.
Security agents tracked the fugitive general to a messy Serbian farmhouse on Thursday after tight surveillance on relatives and helpers and in so doing removed big obstacle to Serbia officially beginning its bid to join the European Union.
Mladic's lawyers argue the 69-year-old, found alone surrounded by medication, is mentally unstable and thus too sick to be extradited to the International Criminal Tribunal.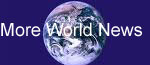 The Hague court has indicted Mladic for genocide in the 43-month siege of Sarajevo and the massacre of 8,000 Muslims in Srebrenica during the 1992-95 Bosnian war.
But a Belgrade court ruled on Friday he was fit enough to face trial and served extradition papers.
Mladic's lawyer Milos Saljic said he plans to appeal that decision "to prolong the extradition as long as possible".
"I will mail it late this afternoon," he told reporters.
The appeal court must respond and forward the final decision to the Justice Ministry which will then rule on the extradition straightaway, a process that would take up to four days, said Slobodan Homen, a state secretary.
Vladimir Vukcevic, Serbia's chief war crimes prosecutor said: "I have seen Mladic and I believe he is fit for trial ... We will now focus on uncovering the entire network of his helpers."
Many Serbians admire Mladic as a dedicated military man who did not seek to enrich himself during the bitter civil war.
Serbian authorities said they detained 180 people who had attacked police and injured 32 officers during a rally on Sunday organised by the Serbian Radical Party, whose leader is on trial in The Hague.
Many of those at the rally in Belgrade were young people, some not even born during the Bosnian war.
Mladic's wife and son, who live in Belgrade, are expected to visit him in prison again on Monday. At the Sunday rally, Darko Mladic said his father was a defender of his people.
"Ratko Mladic is not a criminal, he did not order the killings. He defended his people in an honourable, fair and professional manner," he told protesters.