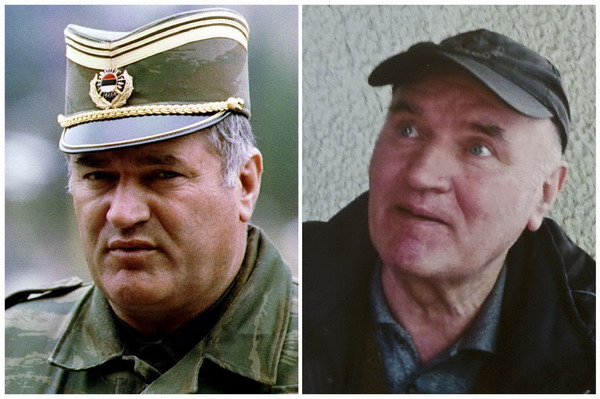 Combination photo shows Bosnian Serb army commander General Radko Mladic in Pale dated May 7, 1993 and in Belgrade after he was arrested on May 26, 2011. Mladic was arrested after years on the run from international genocide charges, opening the way for the once-pariah state to approach the European mainstream. The Belgrade-based war crimes court stopped questioning the war crimes suspect on Thursday because of his poor health, his lawyer said. [Photo/Agencies]
BALI, Indonesia - The arrest of genocide suspect Ratko Mladic is an important development that will help with reconciliation in the Balkans, Bosnia's foreign minister said Friday.
Europe's most wanted war crimes fugitive was arrested Thursday in a northern Serbian village after 16 years on the run. The Bosnian Serb wartime army commander is facing international war crimes charges, including the slaughter of 8,000 Muslim men and boys in the Bosnian town of Srebrenica during Bosnia's 1992-95 war.
Bosnian Foreign Minister Sven Alkalaj said the arrest was a positive development for Serbia, which has been under intense pressure from the international community to catch Mladic.
"I think crime cannot stay unpunished ... especially the crimes against humanity, the crimes of genocide," said Alkalaj, who was attending a meeting of the Non-Aligned Movement on Indonesia's resort island of Bali.
"I think it's very important regarding the reconciliation in the Balkans in general," he said.
His Egyptian and Indonesian counterparts - Nabil Abdalla El Araby and Marty Natalegawa - also welcomed the arrest, noting need to uphold the rule of law and for a brighter future for the countries of the former Yugoslavia.
Natalegawa expressed hope that this latest development will provide some kind of important closure "so the countries and the people in that region can move on."
The foreign ministers are among the some 600 participants from 118 member countries of the Non-Aligned Movement attending the five-day meeting.