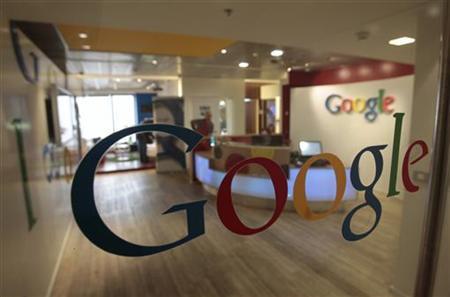 The Google logo is seen on a door at the company's office in Tel Aviv January 26, 2011. Google said on Thursday that it has worked with MasterCard, Citigroup, Sprint and transaction processing company First Data to make the
phone-payment service
available this summer in New York and San Francisco. [Photo/Agencies]
NEW YORK -- EBay and its online payment unit, PayPal Inc, on Thursday sued Google Inc and two executives for stealing trade secrets related to mobile payment systems.
The two executives, Osama Bedier and Stephanie Tilenius, were formerly with PayPal and led the launch on Thursday of Google's own mobile payment system in partnership with MasterCard, Citigroup and phone company Sprint.
The suit highlights the growing battle by a wide range of companies from traditional finance to Silicon Valley trying to take a major stake in what has been described as a $1 trillion opportunity in mobile payments. The mobile phone is seen as the digital personal wallet of the future.
The eBay suit said Bedier worked for nine years at PayPal, most recently serving as vice president of platform, mobile and new ventures. He joined Google on January 24 this year.
Tilenius was at eBay from 2001 to October 2009 and served as a consultant to the company until March 2010. The suit says Tilenius joined Google in February 2010 as vice president of e-commerce.
Bedier is accused in the suit of having "misappropriated PayPal trade secrets by disclosing them within Google and to major retailers."
The suit accused Tilenius of recruiting Bedier, thereby breaking a contractual agreement with eBay. It also claims Bedier attempted to recruit former colleagues still at PayPal.
Ebay said PayPal and Google worked closely together for three years until this year on developing a commercial deal where PayPal would serve as a payment option for mobile application purchases on Google's Android phones.
It said Bedier was the senior PayPal executive leading and finalizing negotiations with Google on Android during this period.
It also claimed Bedier transferred up-to-date versions of documents outlining PayPal's mobile payment strategies to his non-PayPal computer just days before leaving PayPal for Google.
"By hiring Bedier, with his trade secret knowledge of PayPal's plans and understanding of Google's weaknesses as viewed by the industry leader (PayPal), Google bought the most comprehensive and sophisticated critique of its own problems available," the suit said.
Google spokesman Aaron Zamost said the company had not yet received a copy of the complaint would not be able to comment until it has had a chance to review it.
Google and PayPal have done battle in the recent past in online payments via computers with the launch of Google Checkout in 2006, but Checkout has had a minimal impact on PayPal's market dominance.
The suit was filed at Superior Court of the State of California, county of Santa Clara, Case No: CV20l863.