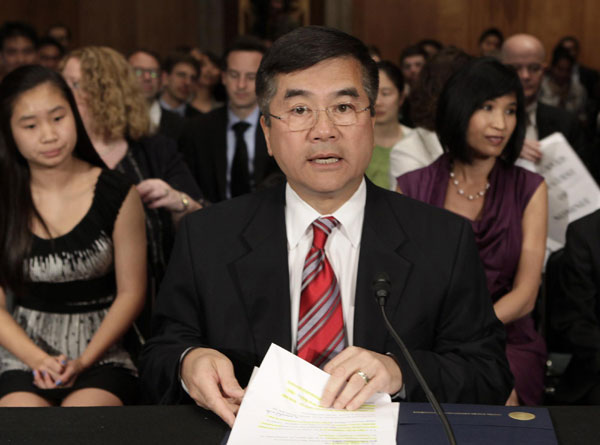 US Commerce Secretary Gary Locke prepares to testify to be an ambassador to China before the Senate Foreign Relations Committee on Capitol Hill in Washington May 26, 2011. [Photo/Agencies] 
WASHINGTON - China holds about 8 percent of US government debt, roughly a third of that held by foreign entities, while 70 percent is held US by domestic investors, US Commerce Secretary Gary Locke said on Thursday.
"China's hold or ownership is only 8 percent of our outstanding debt and in no way does China's position influence US foreign policy," Locke told a Senate Foreign Relations Committee confirmation hearing on his nomination to be the next US ambassador to China.
Locke, nominated by President Barack Obama in March, made his remarks during a confirmation hearing before the committee, which is expected to support Locke. The full Senate is then expected to confirm him.
If confirmed, Locke would become the first Chinese-American to serve in the critical post of US ambassador to China, where his parents were born.
He would replace John Huntsman, a former governor of Utah who may run for the 2012 Republican presidential nomination to face Obama, a Democrat.