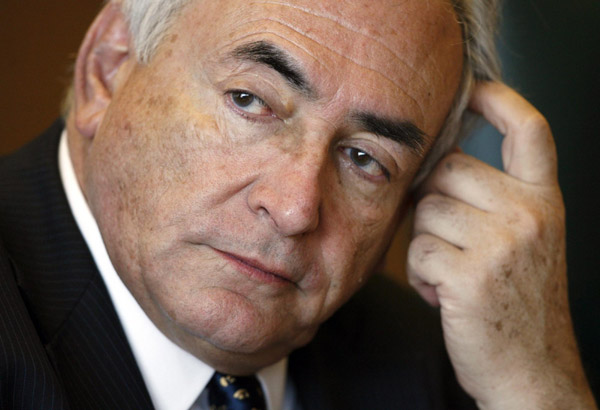 IMF Managing Director Dominique Strauss-Kahn gestures before his address to a Tripartite Meeting on the Current Global Financial and Economic Crisis at the International Labor Oragnization (ILO) headquarters in Geneva in this March 23, 2009 file photo. [Photo/Agencies] 
NEW YORK - IMF head Dominique Strauss-Kahn was taken into custody on Saturday in New York and was being questioned in regard to a sexual assault, New York police said.
Following are some key facts about Strauss-Kahn.
-- An architect of France's economic recovery in the late 1990s, Strauss-Kahn, known as "DSK," served in a Socialist government as finance minister between 1997 and 1999. He cut the public deficit to qualify France for the euro and took steps that led to the privatization of some state firms.
-- He was forced to resign from Socialist Prime Minister Lionel Jospin's government in 1999 after he was caught up in a corruption scandal. A court later cleared him.
-- Strauss-Kahn lost out on the Socialist nomination for the French presidential election in 2006 but was surprisingly proposed as a candidate to run the International Monetary Fund by the eventual winner, Nicolas Sarkozy, a political rival.
-- Since taking over the IMF, Strauss-Kahn has won praise for making sure the Fund was at the center of global efforts to cope with the financial meltdown of 2007-09 and introduced sweeping changes at the global institution to help countries in need. He has also overseen changes that have given emerging market countries greater voting power in the institution.
-- Strauss-Kahn is no stranger to controversy about his private and public life. He was investigated by the IMF in 2008 over possible abuse of power involving an affair with a senior IMF economist who subsequently left the fund. The probe cleared him of abuse of power and he apologized publicly for "a serious error of judgment."
-- Despite being based in Washington, he has continued to spend a lot of time in France, fanning speculation that he is considering re-entering politics as a Socialist candidate for the next presidential election in France in 2012.