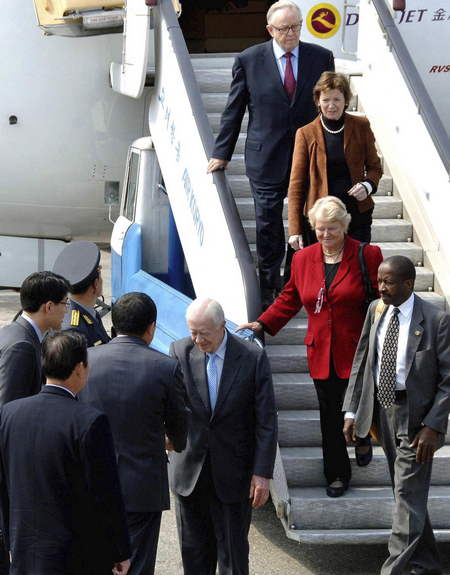 A delegation led by former US President Jimmy Carter (C, bottom) arrives at an airport in Pyongyang April 26, 2011.
Carter and three other former state leaders arrived in Pyongyang on Tuesday, hoping to defuse tensions on the divided Korean peninsula and kick-start long-stalled nuclear talks.[Photo/Agencies]

PYONGYANG -- Former US President Jimmy Carter, accompanied by three other former state leaders, arrived in Pyongyang Tuesday morning for a three-day visit aimed at easing tensions on the Peninsula.
The Nobel Peace prize winner is accompanied by former Finnish President Martti Ahtisaari, former Norwegian Prime Minister Gro Brundtland and former Irish President Mary Robinson.
Carter said on Monday that the visit will concentrate on Pyongyang's nuclear program and food aid needs.
The trip's main focus is easing inter-Korean tension, which spiked to the highest level in years in 2010 with the sinking of a Republic of Korea (ROK) warship and the shelling of a ROK island. In between the attacks, DPRK revealed an uranium enrichment programme which opened a second route to making a nuclear bomb along with its plutonium program.
The top priority is convincing DPRK to give up its pursuit of nuclear weapons, and the resumption of dialogue.
DPRK walked out of Six-Party talks in 2009, declaring the process dead after the West imposed a new round of sanctions for its second nuclear test and long-range missile test. Now DPRK wants the talks to resume.
However, Seoul and Washington doubt Pyongyang's sincerity and say they want to see actions and not just words. Last year, DPRK said it would allow nuclear inspectors back into the country, but there has been no further movement on this front.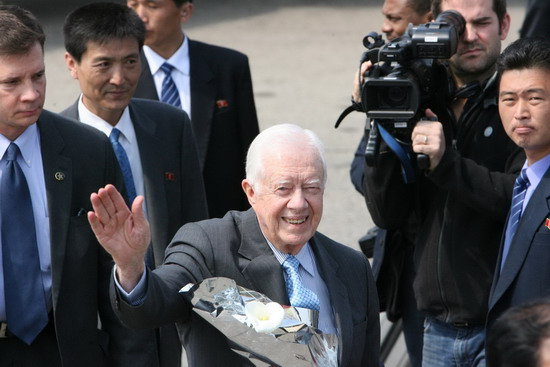 Former US President Jimmy Carter (C) arrives at the airport of Pyongyang, capital of the Democratic People's Republic of Korea (DPRK), April 26, 2011. [Photo/Xinhua]