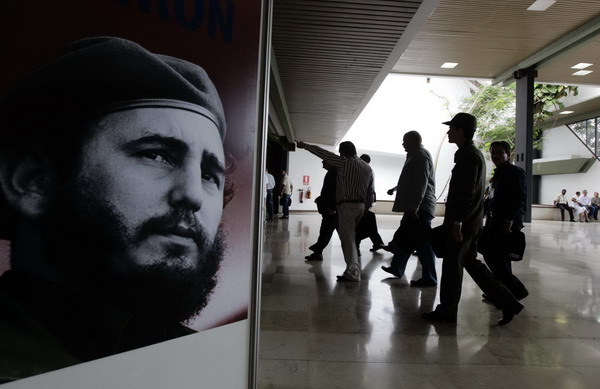 Delegates enter to the sixth congress of the Cuban Communist Party (PCC) beside a portrait of former Cuban leader and party Secretary General Fidel Castro in Havana April 16, 2011. Cuba started a Communist Party congress about its future with a tribute to the past on Saturday, staging a military parade for the 50th anniversaries of the US-backed Bay of Pigs invasion and the declaration of Cuban socialism. [Photo/Agencies]
HAVANA - Fidel Castro confirmed in an article published Tuesday that he would no longer be part of the top leadership of the Cuban Communist Party (PCC).
Related readings:


Fidel Castro reminds revolution principles 


Raul Castro backs 10-year maximum term for top positions 


Former Cuban leader Fidel Castro in a meeting 


Castro urges to produce food instead of bio-fuels 
In the article posted on the website cubadebate.cu, Castro said he would not be a member of the new Central Committee of the PCC.
"Raul already knew that I would not accept any position in the current party," he was quoted as saying.
Fidel, 84, revealed last month he had already resigned from all official posts in 2006, including that of the PCC's first secretary, due to his poor health.
Raul, Castro's younger brother, took over from him the presidency of the Council of State in 2006. Raul's position was later confirmed by a National Assembly election in 2008.
Castro did not attend the ongoing Sixth Congress of the PCC, which is expected to vote in a new leadership of the party.