DOHA - Inside a spacious meeting hall in Qatar's capital Doha, Western powers and their Arab allies met representatives of the Libyan opposition Interim Transitional National Council to seek a political way out of the Libyan crisis.
In Libya, the fighting between the rebel forces supported by NATO-led coalition and Libyan leader Muammar Gaddafi's army shows no signs of abating.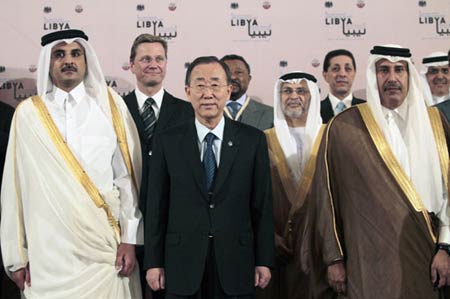 United Nations Secretary General Ban Ki-Moon (C) stands between to Qatar'sCrown Prince Sheikh Tamim bin Hamad al-Thani (L) and Qatar's Prime Minister and Minister of Foreign Affairs, Sheikh Hamad Bin Jissim Bin Jabr Al Thani, before a start the first international contact group meeting on Libya in Doha April 13, 2011.[Photo/Agencies]
Wednesday's meeting of the Contact Group on Libya was part of the international mandates for an end of the deteriorating situation in Libya, and came two days after an African Union (AU)- brokered peace deal was denied by the rebels on the ground that the initiative fell short of their expectations for Gaddafi to step down.
No Easy Political Solutions
Related readings:


 Former US congressman in Libya to broker Gaddafi's departure


 Gaddafi envoy in Britain for talks


 Gaddafi vows to fight on


 Gaddafi's son: military operations to end in 48 hrs

UN Secretary-General Ban Ki-moon was present at the high- profile conference with NATO Secretary-General Anders Fogh Rasmussen and British Foreign Secretary William Hague, as well as senior diplomats from the United States, Arab countries and international organizations.
The participants agreed that a political solution would be the only way to lasting peace in Africa's major oil exporter and they reaffirmed strong commitment to the sovereignty, independence, territorial integrity and national unity of Libya.
German Foreign Minister Guido Westerwelle told reporters on the sidelines of the meeting that the international community was looking forward to a speedy end of war in Libya without dividing the country.
However, analysts said it is not easy for a political solution to be born in the international shuttle diplomacy as Gaddafi would not give up power, but rebels hold his departure as the top priority in any political attempt.
That can be proved by the abortion of the AU-brokered road map, which was accepted by Gaddafi who wants to open political dialogue, but rejected by the rebels who said Gaddafi must leave office.
In the past months, Gaddafi was under mounting pressure to step down, but the veteran leader told the Western countries that he would clinch to the power through his sporadic appearance on TV channels, cheering with supporters.
According to the statement issued after the meeting, participants hold that the veteran Libyan leader had lost all legitimacy and must leave power in order to allow the Libyan people to determine their own future.
Rasmussen said Monday that NATO foreign ministers will hold a meeting on Libya later this week in Germany. He said military action alone won't solve the crisis in Libya.
Rebels Try to Gain Support
The Libyan government did not send representatives to the contact group meeting, which was initiated in a London conference as a mechanism to bring all parties in Libya together for consultations.
The Contact Group said they regarded the Interim Transitional National Council as the legitimate interlocutor, representing the aspirations of the Libyan people.
Libyan rebel forces in the past weeks have engaged in shuttle diplomacy to gain support and recognition.
Mahmud Awad Shamma, a representative of the rebel forces, said a delegation from the Libyan Interim Transitional National Council will go to Washington Wednesday night to meet some congressional leaders to gain more support.
"We want to gain more support to protect civilians and might invite some of them (congressional leaders) to the ground," Mahmud said.
Qatar, the first Arab state to recognize the Libyan rebel authority, said Tuesday it has already exported two shipments of oil from Tobruk, the main oil hub in east Libya.