AJDABIYA, Libya - NATO launched new airstrikes Wednesday on targets held by Moammar Gadhafi as rebel leaders urged a stronger air campaign that will allow them to advance on Gadhafi's territory.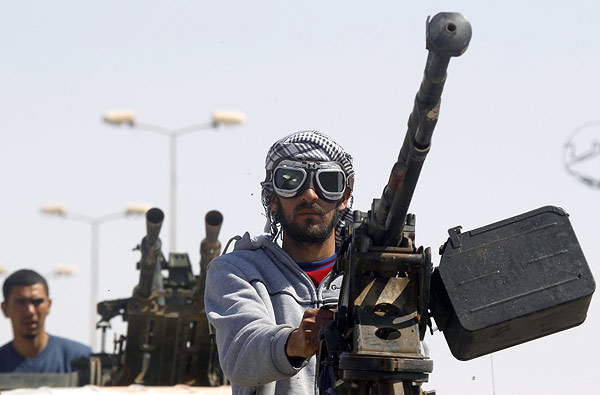 A rebel fighter (front) mans a heavy machine-gun atop a pick-up truck at the frontline along the western entrance of Ajdabiyah April 13, 2011. [Photo/Agencies]
Gadhafi's government, meanwhile, denounced proposals by rebel leaders that they be given some of the regime's assets that have been frozen as part of international sanctions. "That is financial piracy," Finance Minister Abdulhafid Zlitni said of such a transfer. In all, about $120 billion in Libyan assets have been frozen, he told a news conference.
Detailing Wednesday's bombings, a NATO official confirmed a strike on at least one ammunition bunker outside the Libyan capital, Tripoli. He asked that his name not be used because the military alliance was not yet releasing the information publicly.
Related readings:


 Talks of Gadhafi leaving power 'ridiculous': Gadhafi's son


 Gadhafi, rebels split on peace plan


 Former US rep in Libya to seek Gadhafi's exit


 US eases off in Libya, Gadhafi holds on
Libya's official JANA news agency reported airstrikes Wednesday in three other places: Misrata, Libya's third-largest city; Sirte, a Gadhafi stronghold and home to the Libyan leader's tribe; and Aziziyah, about 22 miles (35 kilometers) south of Tripoli. Jana said the strike in Misrata was in an area "populated with residents."
But Mohammed Abdullah, a Misrata activist and a professor, said residents had mostly evacuated that part of Misrata several weeks ago after Gadhafi troops stormed it.
"Gadhafi troops are misleading the NATO," he said. "The Gadhafi forces turn the shops into weapon caches and then claim that the areas are residential."
Libyan rebels have been pleading for more NATO airstrikes as top Western and Arab envoys gather in Qatar's capital to discuss ways to end the Libyan crisis.
At Wednesday's meeting, a spokesman for Libyan rebels, Mohammed Shammam, urged the US military to reassert a stronger role in the NATO-led air campaign or risk more civilian casualties in the fighting between Gadhafi and forces seeking to end his four-decade rule.
Shammam's appeal appeared to set the urgent tone for the rebels' meetings with the UN's secretary-general and other top envoys.
In Washington, Pentagon officials disclosed that American fighter jets have continued airstrikes in Libya even after the United States turned over the mission to NATO last week. The revelation that Americans have flown 35 percent of all air missions over the past 10 days came amid complaints from allies that the US military should be doing more.
While peace efforts remain the top objective, there also appears to be a shift toward trying to boost the rebels' firepower to protect their territory from government offensives. One proposal noted by Italy -- Libya's former colonial ruler -- calls for allies providing defensive weapons.
The meeting comes as fighting on the eastern side of the country has been restricted to the occasional barrage of rockets, in contrast to the rapid advances and retreats that characterized much of the combat there in past weeks.
Gadhafi's forces, however, continued to shell the besieged city of Misrata in recent days. International groups are warning of a dire humanitarian crisis in Misrata, the only city in western Libya still partially in the hands of rebels.
In the rebel stronghold of Benghazi, rebel spokesman Abdel-Hafidh Ghoga said representatives are in negotiations over arms deals with the countries that have recognized the movement's National Transitional Council -- France, Italy and Qatar -- as well as with other countries.
"I think there will be no problem receiving weapons," Ghoga said.
He added: "We believe that the solution with Col. Gadhafi's regime will only come through force. There will not be a political solution unless it is imposed on this regime by the international community."
Libya's deputy foreign minister, Khaled Kaim, alleged Wednesday that Lebanese militants have joined the ranks of the rebels, but did not provide evidence. Kaim claimed that several members of the Lebanese group Hezbollah are fighting alongside the rebels in Misrata, and that members of another militant group, Amal, are training rebel fighters in Benghazi.