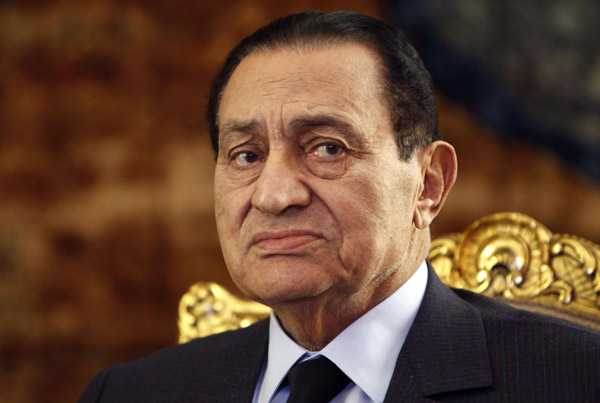 Egypt's President Hosni Mubarak attends a meeting with South Africa's President Jacob Zuma at the presidential palace in Cairo in this October 19, 2010 file photo. [Photo/Agencies] 
CAIRO - Egypt's Prosecutor General Abdel- Meguid Mahmoud on Wednesday ordered a 15-day detention for former President Hosni Mubarak and his two sons.
Mubarak's sons, Alaa and Gamal, arrived at the Tora prison in southern Cairo Wednesday morning, official MENA news agency reported.
They face charges of use of violence against protesters, power abuse and embezzlement of public funds, MENA said.
The two sons "turned in their civil outfits, mobile phones, wallets and all other belongings to be put inside the prison's safe" after they got out of police vehicles, it reported.
Looking "bewildered and distressed," they declined to eat breakfast and only asked for bottles of water from the prison's cafeteria, according to the report.
Mubarak, 82, was hospitalized Tuesday in Sharm el-Sheikh after suffering a heart attack during questioning by prosecutors.
Egypt's Justice Ministry said the questioning of Mubarak will resume in the hospital as his health condition stabilizes.
Mubarak was forced to end his 30-year rule on February 11 after the 18-day nationwide demonstration which left some 384 people dead.
Mubarak denied all the accusations against him and his family in an audio speech aired by the Al-Arabiya TV on Sunday.
On April 8, tens of thousands of protesters gathered in central Cairo's Tahrir Square, demanding the trial of Mubarak and his family.