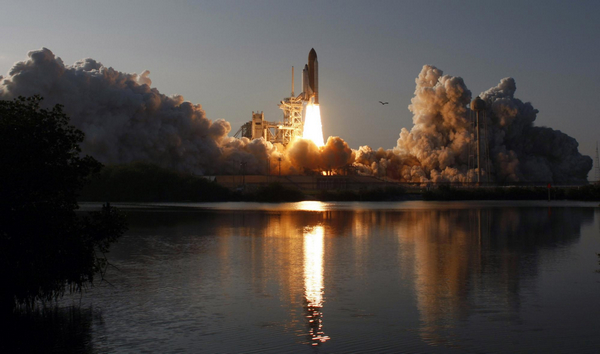 Space shuttle Discovery lifts off from the Kennedy Space Center in Cape Canaveral, Florida, in this February 24, 2011 file photo. Discovery, which completed its final mission last month, will go to the Smithsonian National Air and Space Museum's Udvar-Hazy Center in northern Virginia, the NASA space agency said April 12, 2011. [Photo/Agencies]
CHICAGO - Chicago's Adler Planetarium, the oldest in the United States, celebrate on Tuesday two important milestones in space exploration, but the mood was tempered after it failed to get one of the four shuttle orbiters set for retirement at the end of this year.
The National Aeronautics and Space Administration (NASA) announced that the four remaining space shuttles Discovery, Atlantis, Endeavour and Enterprise will eventually be displayed in Virginia, Florida, California and New York respectively.
It was a blow for Chicago, which was planning to expand Adler around a new exhibit featuring one of the shuttles. Instead, Chicago will get a consolation prize: The one and only space simulator used to train all shuttle astronauts.
In an emotional announcement at the Kennedy Space Center in Florida, which was beamed live at Adler, NASA Administrator Charles F. Bolden Jr. said the space shuttle program has opened new frontiers in space exploration.
"Over three decades, this flagship program has become part of the fabric of our nation's history," Bolden said before the announcement. "It has helped us improved communication on earth and to understand our home planet better."
Bolden, who is himself an astronaut, made the announcement during the 30th anniversary of America's first shuttle orbiter flight of Columbia on April 12, 1981, and the 50th anniversary of the first human in space, Soviet Cosmonaut Yuri Gagarin.
Bolden credited the space shuttle program for launching satellites Magellan and Ulysses into scientific missions around the Solar System, as well as the launching of the much-heralded Hubble Telescope, which has been sending thousands of images of the outer space back to Earth.
As the United States' first ever planetarium, the 80-year old Adler museum was hoping to expand its many attractions and lure more tourists to Chicago with the addition of one of the space shuttles.
As part of the two milestone anniversaries on Tuesday, Adler featured an all day Celebration of Spaceflight activities designed particularly for younger students. An Adler educator also demonstrated how the space shuttle's tiles are resistant to heat in space by using a blowtorch.
"We knew the odds were very long," said Adler President Paul Knappenberger, following the announcement that Adler is not getting a space shuttle. "We knew one of the shuttles is going to the Smithsonian (Virginia). So that left three others, and there were twenty-one of us vying for those. So we had one-in-seven shot."
Still Knappenberger praised Adler's effort in making the case for Chicago. "We felt this is an opportunity not to be lost for the people of Chicago, that we really needed to step up and make a really strong case for bringing the shuttle to Chicago," he said.
Meanwhile, Knappenberger told the disappointed audience of about 100 people that Adler will be getting the NASA shuttle simulator.
"We also have been working very closely with NASA with some other artifacts of the shuttle program. NASA has told that we would be receiving the space flight simulator that was used to train all of astronauts that flew into space," he said.
Chairman of the Board Bryan C. Cressey vowed that Adler will continue to educate millions of visitors and he envisioned the space simulator as a very interactive part of a future exhibit.
"As you know, the Adler is about the universe and about space. This (simulator) will help us define the mysteries of the universe. and the wonders of space. This will educate millions of people that come to see them, including children," Cressey said during the event at the planetarium.
Despite the disappointment, Mayor-elect Rahm Emanuel remained a cheerleader for Adler.
In a statement sent to Xinhua, Emanuel said: "Adler is a shining example of the best our city has to offer and I am proud to see it recognized for the contributions it makes to both the people of our city and to our nation. As we celebrate Adler's award today, we are reminded of our remarkable history and inspired to achieve new heights."
The simulator is currently being used at the Johnson Space Center in Texas. It will be disassembled and shipped to Chicago after the end of the space shuttle missions by June.
The shuttle Endeavour is expected to launch its final voyage on April 29, while Atlantis will be the last space shuttle to launch on June 28.
Two other space shuttles were destroyed. Challenger exploded shortly after takeoff on January 28, 1986, while Columbia exploded during re-entry on February 1, 2003.