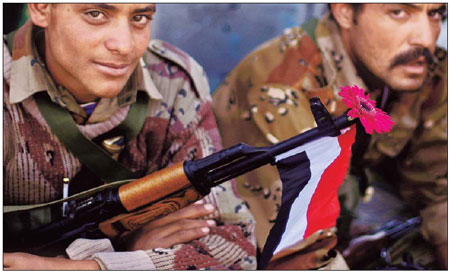 Yemeni army soldiers in charge of protecting anti-government protestors take a break after receiving flowers from demonstrators demanding the resignation of Yemeni President Ali Abdullah Saleh, in Sanaa, Yemen, on Wednesday. [Photo/Agencies]
SANAA, Yemen - Yemen opposition groups called on protesters to march on President Ali Abdullah Saleh's Sanaa palace on Friday to demand he step down, hoping to end a crisis his allies abroad fear will benefit Islamic militants.
Related readings:


 Yemeni general backs protesters


 Ban urges Libya to end violence against civilians


 Yemeni president declares state of emergency


 UN chief calls for 'utmost restraint' in Yemen

"Friday will be the 'Friday of the March Forward', with hundreds of thousands of people ... We will arrive where you are, and we will remove you," opposition spokesman Mohamed Qahtan told Al Jazeera on Wednesday, addressing the Yemeni leader.
Seven weeks of street protests against Saleh's 32-year rule of the country has raised concerns in Western capitals at the prospect of a country where al-Qaida has entrenched itself falling apart.
Yemen borders the world's biggest oil exporter, Saudi Arabia, and major shipping routes. Al-Qaida cells in Yemen have in the past two years attempted attacks outside Yemen in Saudi Arabia and the United States.
Defections including generals, tribal leaders, diplomats and ministers, gained momentum after gunmen loyal to Saleh opened fire on demonstrators on Friday, causing the deaths of 52 people. Saleh fired his cabinet and declared a state of emergency, but the bloodshed has lent protests a new severity.
On Wednesday, protesters carried placards saying, "No to emergency rule, you butcher!" Some had begun selling T-shirts saying, "I am a future martyr".
"As sure as the sun is in the sky, he will go," said Suleiman Abdullah, 28.
A succession to Saleh is unclear and the country faces the danger of fragmentation.
Complaining of neglect, southerners have said they want to secede, and northern Shiites have staged several rebellions.
Reuters
(China Daily 03/25/2011 page12)