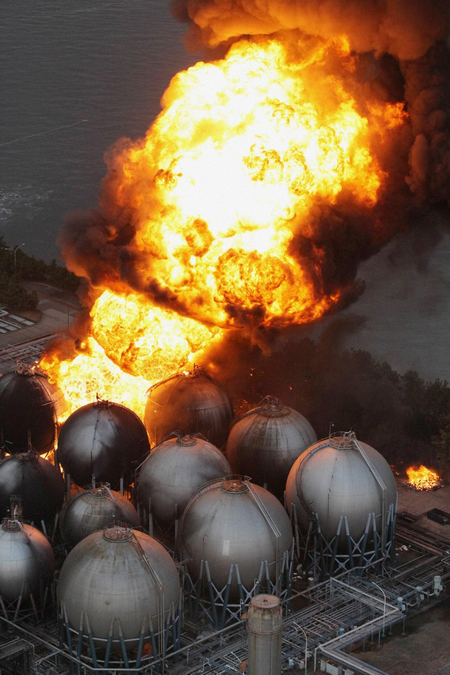 Natural gas storage tanks burn at a facility in Chiba Prefecture, near Tokyo, Japan March 11, 2011.There were several strong aftershocks and a warning of a 10-metre tsunami following the quake, which also caused buildings to shake violently in the capital Tokyo.[Photo/Agencies]

VIENNA -- The four Japanese nuclear power plants closest to Friday's major earthquake in Japan have been safely shut down, the International Atomic Energy Agency said.

The IAEA, the Vienna-based UN nuclear watchdog, said it was seeking more information on which countries and nuclear facilities might be at risk from the tsunami unleashed by the quake.
Related readings:

 Japan super quake, tsunami terrify tremor-prone nation


 Chinese rescue team ready for Japan quake relief


 Magnitude 8.9 earthquake slams Japan


 Japan PM: Quake caused 'major damage'
"The four Japanese nuclear power plants closest to the quake have been safely shut down," the agency said in a statement, adding it was liaising with the Japanese Ministry of Economy, Trade and Industry on further details of the situation.
"The agency has sent an offer of good offices to Japan, should the country request support," the statement added.
Japanese media said the government had decided to declare a nuclear power emergency situation, which occurs if there is confirmation of radioactivity leaks from a nuclear power plant or a reactor cooling system breaks down.
Kyodo news agency said a fire broke out at Tohoku Electric Power Company's Onagawa nuclear plant in northeastern Japan following the earthquake.
Separately, Fukushima Prefecture, the site of a Tokyo Electric Power nuclear power plant, said on Friday the plant's reactor cooling system was functioning, denying an earlier report that it was malfunctioning.