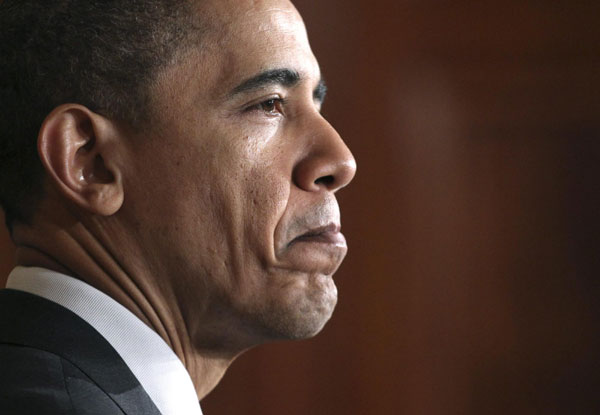 US President Barack Obama is pictured during an event to prevent bullying in the East Room of the White House in Washington, March 10, 2011. [Photo/Agencies]
WASHINGTON - President Barack Obama smiled when he said his large ears and funny name once made him a target of school-yard harassment. But he was all seriousness Thursday when he told a White House conference on bullying that torment and intimidation must not be tolerated.
School bullying is not a rite of passage for youth, Obama said on Thursday as part of an initiative to change the way Americans perceive the dangerous behavior.
President Obama shared his own experience with bullying as a child.
"I have to say, with big ears and the name that I have, I wasn't immune," he said to laughter. "I didn't emerge unscathed."
Obama and first lady Michelle Obama addressed school administrators, teachers and parents at a White House conference on bullying prevention, where they launched the website stopbullying.gov.
Speaking as a parent and as a victim, Obama urged everyone to help end bullying by working to create an atmosphere at school where children feel safe and feel like they belong.
"If there's one goal of this conference, it's to dispel the myth that bullying is just a harmless rite of passage or an inevitable part of growing up," Obama said. "Bullying can have destructive consequences for our young people."
"As parents, it breaks our hearts to think that any child feels afraid every day in the classroom, or on the playground, or even online," Michelle Obama said.
The conference highlighted public-private partnerships to address bullying, including initiatives by Facebook and the MTV music channel.
Some 13 million students, about a third of all those attending school, are bullied every year, the White House said. Experts say that puts them at greater risk of falling behind in their studies, abusing drugs or alcohol, or suffering mental or other health problems. Kids who are seen as different because of their race, clothes, disability or sexual orientation are more likely to be bullied.