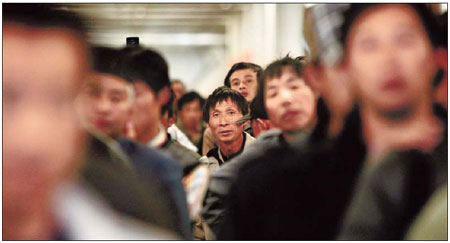 Chinese citizens wait aboard the Palermo Grimaldi ferry at the harbor in Valletta, Malta, on Saturday, after being evacuated from Benghazi, Libya. Gregorio Borgia / Agence France-Presse
BEIJING - More than 20,000 Chinese nationals out of the estimated 33,000 had been evacuated from unrest-wracked Libya as of Sunday morning, according to latest figures from China's Foreign Ministry.
Meanwhile, the worsening situation in Libya, which prompted the United Nations Security Council to unanimously adopt a resolution imposing sanctions on it on Saturday, caused China to hasten its evacuation of nationals from Libya.
Chinese aviation authorities on Saturday announced that 15 planes would be available every day over the next two weeks to bring home citizens stranded in the northern African country.
Ferries arranged by the Chinese embassy in Greece and some Chinese companies are now on their way to central Libya to get more Chinese nationals, as "almost all Chinese citizens have been evacuated from eastern Libya, from the area in and around Benghazi," said a statement released by the ministry on Sunday.
The vessel Hellenic Spirit hired by Chinese embassy in Greece, which left the Libyan city of Benghazi on Saturday with 1,899 Chinese evacuees and 229 Vietnamese construction workers employed by Chinese companies, arrived at the Greek island of Crete at 6:30 am on Sunday after a journey of more than 15 hours.
These evacuees will make a brief stopover on the island before embarking on their journey home.
According to Foreign Ministry figures, by 10 am on Sunday, about 1,400 had returned to China while 3,400 were on their way to a third country.
An estimated 15,200 were temporarily in a third country - 7,200 in Crete, 2,100 in Malta and 5,900 on the Tunisian island of Djerba, said the ministry.
Premier Wen Jiabao has expressed thanks to the governments of Greek and Malta for their help in the evacuation of the Chinese nationals from Libya.
Between Feb 28 and March 10, Air China will send five passenger planes every day to Crete. China Eastern Airlines will fly four planes every day to Malta. China Southern Airlines will dispatch four planes to Djerba; and Hainan Airlines will also fly two planes daily to Crete.
Most of 33,000 Chinese nationals are employees of Chinese companies doing business in Libya.
Foreign employees of Chinese companies have also been taken care of by the Chinese side in the evacuation plan, including those from Vietnam, the Philippines and Bangladesh.
"We promise them that we will never abandon them. This is the spirit of international humanitarianism," said Guo Shaochun, director of the Center for Consular Assistance and Protection under the Foreign Ministry.
Beside hot lines and fax, the center is also keeping an eye on information from Internet such as micro blogs.
Guo, together with his colleagues in the center, have spent several nights sleepless since the unrest in Libya broke out, working on the biggest overseas evacuation effort of Chinese nationals ever since China's reform and opening began in the late 1970s.
China Daily-Xinhua
(China Daily 02/28/2011 page12)