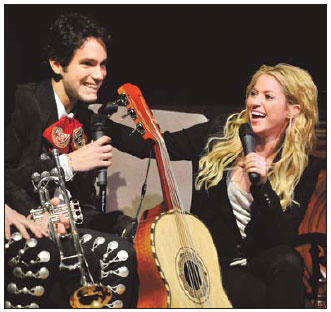 Shakira (right) Colombian born Grammy-winning singer and songwriter, talks with Harvard Students and members of Mariachi Veritas at Harvard University in Cambridge, Massachusetts on Saturday, where she was named "2011 Artist of the Year" by the Harvard Foundation. Josh Reynolds / Associated Press
CAMBRIDGE, Massachusetts - Shakira was honored on Saturday by Harvard University for her artistic and humanitarian work. She later said some US states' proposed anti-immigrant legislation goes against her foundation's efforts to provide education to poor people around the world.
The Grammy Award-winning singer, however, said Latino immigrants in the United States facing various anti-immigrant bills will have "justice" as public awareness about their plight grows.
"Justice will come. I'm sure," Shakira told The Associated Press after the award ceremony. "Wherever there is ... a kid, who could be the son or the daughter of a Latino immigrant, who cannot attend a school in the United States of America, that kid should be a concern to all of us and our responsibility."
Shakira, a native of Colombia, made the comments in an interview when asked about proposed measures in Arizona and elsewhere targeting illegal immigrants. A bill in Arizona, for example, would bar illegal immigrants from attending public schools, living in public housing or driving. Another bill seeks to deny citizenship to children born in the US if their parents are illegal immigrants.
"I believe we should never think less of the Latino community because it's a productive force in this country," Shakira said.
The singer, born Shakira Isabel Mebarak Ripoll, was awarded the "2011 Artist of the Year" from the Harvard Foundation, the university's center for intercultural arts and science initiatives.
Foundation director S. Allen Counter said Shakira, who has sold more than 50 million albums worldwide, was honored for her "distinguished history of creativity", as well as for her charitable contributions.
Previous winners of the Harvard award include Sharon Stone, Will Smith, Jackie Chan and Herbie Hancock.
Shakira said she was humbled by the award and the student performances at the ceremony. "As I entered the premises today, I had to call my mom and say, 'Hey mom. Guess what? I got into Harvard'," said Shakira, who took a history class in 2008 at UCLA.
After accepting the award, she challenged Harvard students to do more to improve education in developing countries. "Not everyone can study at Harvard University," she said. "But everyone, wherever they live, whatever be their background, deserves a chance to make the most of his or her potential" through education.
Associated Press
(China Daily 02/28/2011 page10)