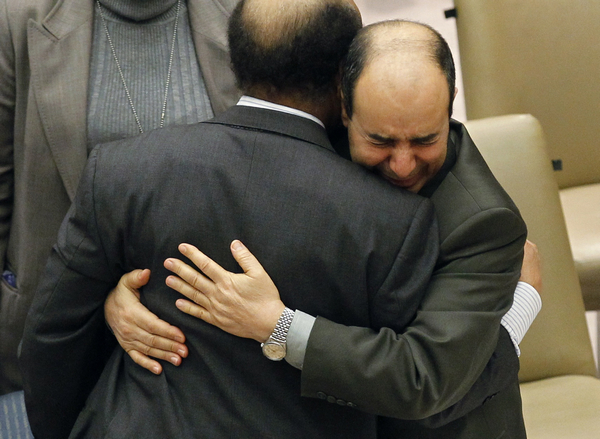 Libyan UN ambassador Abdurrahman Mohamed Shalgham is embraced by Ibrahim Dabbashi (R), Libya's deputy UN ambassador, following his address to the United Nations Security Council during a meeting on Libya, at the UN headquarters in New York, Feb 25, 2011. The UN Security Council held a closed-door meeting on Tuesday to discuss the situation in Libya, at the request of Dabbashi, who also withdrew his support for Gaddafi. Shalgham did not sign onto the anti-Gaddafi statement issued by Dabbashi and others, telling reporters he still supported Gaddafi. [Photo/Agencies]
UNITED NATIONS - The UN Security Council is set to consider a draft resolution on Libya on Saturday and an action is "possible" against Tripoli at a time "there is a sense of urgency" among the 15 Council members, said Maria Luiza Ribetro Viotti, the Brazilian UN ambassador who holds the rotating Council presidency for February.
Viotti, who spoke to reporters at the end of close Council consultations, said that the situation in Libya is deteriorating with reported violations of human rights.
Related readings:


 US moving toward unilateral sanctions against Libya


 Obama calls Sarkozy, Cameron over Libya unrests


 China evacuates 12,000 from Libya, sends frigate to help


 European states evacuate nationals from Libya
The Security Council is set to meet again at 11:00 am EST (1600 GMT) to consider a draft resolution, tabled by Britain, in response to the worsening situation on the ground in Libya.
"The draft resolution includes targeted measures aimed at putting an end to violence and achieve a peaceful solution to the current crisis, and ensuring accountability of the Libyan people," she said. "There is a sense of urgency, this is reflected in our decision to continue consultations tomorrow."
"There is a possibility that we come to conclusion tomorrow," she said.
Earlier on Friday, UN Secretary-General Ban Ki-moon called on the Security Council to take "concrete action" to protect Libyan civilians. Ban also called on the international community to step in and take "protective action in a collective, timely and decisive manner."
"The members of the Security Council continue to be gravely concerned about the deteriorating situation in Libya, in particular about reports of civilian casualties on a large scale and called for immediate end of violence," Viotti said.
Meanwhile, the Security Council also underlined the need for the Libyan authorities "to ensure the safety of all foreign nationals and to facilitate the departure of those wishing to leave the country," she said.
The secretary-general, in his briefing to the Security Council, also touched upon the security and safety of the people who are fleeing Libya for safety in neighboring countries.
"Some 22,000 have fled to Tunisia and a reported 15,000 to Egypt," Ban said. "However, they fear that much larger numbers of residents and migrant workers are in fact trapped and unable to leave for safety."
At the same time, he said, "There are widespread reports of refugees being harassed and threatened with guns and knives. It is crucial for humanitarian agencies to have access to the border regions."
"It is also important for the neighboring states, including Europe, to keep their borders open to people fleeing Libya," he said.