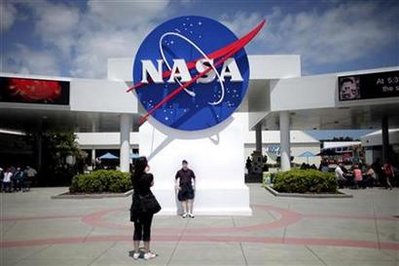 Tourists take pictures of a NASA sign at the Kennedy Space Center visitors complex in Cape Canaveral, Florida April 14, 2010. [Photo/Agencies]
CAPE CANAVERAL, Florida – The Obama administration wants to step up support for commercial space flight and start work on a next-generation launch system for missions beyond the International Space Station under an $18.7 billion NASA budget unveiled on Monday.
The proposed spending plan boosts spending for fledgling commercial human spaceflight projects to $850 million for the year beginning October 1, while maintaining overall NASA's overall spending at its current level.
Related readings:


 NASA selects nanosatellites for space missions


 NASA gives go-ahead to another shuttle flight


 NASA fuels space shuttle Discovery for last launch
"Because these are tough fiscal times, tough choices had to be made," NASA administrator Charlie Bolden told reporters. "Our No. 1 priority is safely flying out the shuttles and maintaining the safety and well-being of our American astronauts currently living and working in space."
The shuttles are being retired after two or three more missions due to high operating costs and to develop new ships that can travel beyond the space station, a $100 billion project of 16 nations that orbits about 220 miles above Earth.
The US government already is buying rides for its space station astronauts from the Russian government at a cost of more than $50 million per person.
Obama wants to stimulate development of commercial space flight services in the United States, an idea that last year polarized Congress.
Legislators ultimately authorized but never funded $312 million for NASA's commercial crew development efforts for this year and $500 million for 2012 and 2013. Obama originally requested $3.3 billion for that three-year period.
"We hope as (commercial companies) develop capabilities, we can lessen our reliance on foreign governments," Bolden said.
The new spending plan includes $2.8 billion to get NASA started on developing a multipurpose spaceship and new rockets capable of flying to the moon, asteroids and other destinations in deep space.
It also provides $1 billion for a space technology research and development program authorized, but also not funded last year.
NASA's projections forecast $18.7 billion budgets over the next five years.
The budget includes about $550 million to fund pensions of shuttle workers being laid off by prime shuttle contractor United Space Alliance and allocates $325 million to begin making up a $1.5 billion cost overrun of the James Webb Space Telescope, a successor to the Hubble Space Telescope.