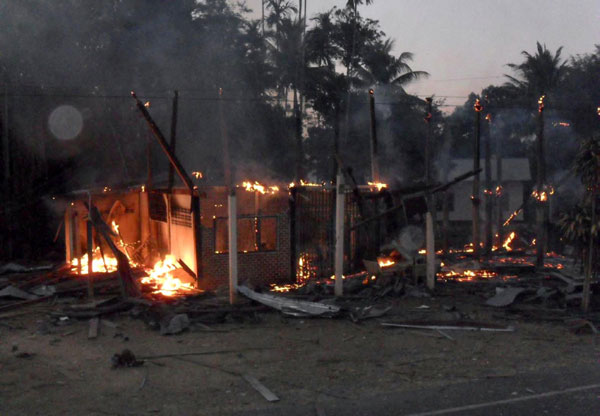 A house burns in a Thai village near a 11th-century Preah Vihear temple at the border between Thailand and Cambodia February 4, 2011. [Photo/Agencies]
PHNOM PENH - Cambodian and Thai troops at the Beehive area near Preah Vihear temple exchanged fire again on Saturday morning.
"The fighting between our Cambodian troops and Thai troops over the beehive area near the Preah Vihear temple has begun again at 6: 15 am this morning and lasted for more than an hour," said colonel Darun at Preah Vihear temple.
"Heavy weapons including rockets, machine guns and mortars, artillery have also been used in the exchange fire this morning," he said. One more Thai soldiers were captured in Saturday morning' s clash, bringing the arrested Thais to five.
No immediate report about the deaths and wounds in the clash this morning, he added.
This is the second military clash after the conflict on February 4 between 15:00 to 17:00.
According to the statement issued by the Cambodia's Ministry of Foreign Affairs and International Cooperation in late Friday, the aggression by Thai armed forces on February 4 was also followed by firing of many 130 mm and 155 mm artillery shells which reached as far as 20 kilometers inside Cambodian territory.
"The attack caused many seriously damages to the temple of Preah Vihear, a world heritage, as well as death and injury of more than ten Cambodian troops and villagers," said the statement.
It added that "facing this flagrant aggression, Cambodian troops had no option, but to retaliate in self defense and in order to safeguard Cambodia's sovereignty and territorial integrity."
"Cambodia is sincerely committed to find a peaceful solution with Thailand on the demarcation of the border according to the existing legal documents that both countries must comply with," it said.
Cambodia's Preah Vihear temple was enlisted as World Heritage Site on July 7, 2008. Just a week after the enlistment, Cambodia and Thailand have had border conflict due to Thai claim of the ownership of 1.8 square miles (4.6 sq km) of scrub next to the temple, triggering a military build-up along the border, and periodic clashes between Cambodian and Thai soldiers have resulted in the deaths of troops on both sides.  
Meanwhile, Kasit Piromya, Thai Foreign Minister said during a press conference in Phnom Penh that he would try his best to mend the ties of both countries.
Kasit said that the clash indicated that the border issue was very sensitive and the World Heritage Committee of UNESCO should handle the disputed issue very carefully.    
"The border situation around temple is very sensitive and both sides should restrain."
The relationships between two countries should not be affected by a "minor conflict," Kasit added.
In a related development, Thai army Chief Gen Prayuth Chan-ocha made remarks Friday evening that he believed it would take some time for the Thai and Cambodian ties to be back to normalcy, but he supports the peaceful method.
"There is no use to resort to violent means. We have to handle the border issue extremely carefully; otherwise, it will badly affect the business in border provinces, lives of the Thai and the Cambodian people," Gen Prayuth said.
This latest confrontation occurred while Thailand's Foreign Kasit Piromya is in Cambodia for the 7th Joint Commission meeting to discuss with his counterpart the bilateral cooperation on various issues including the border matter.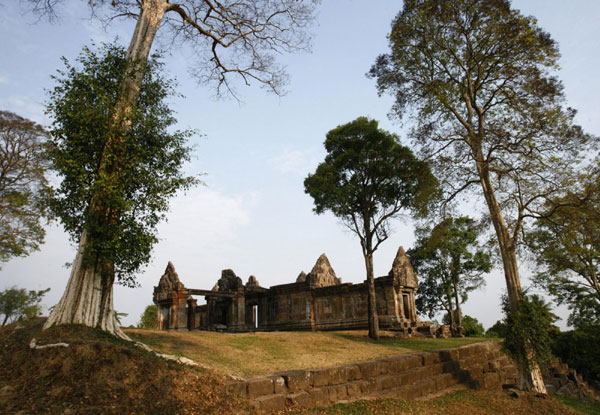 General view of the 900-year-old Preah Vihear temple, a world heritage site, during sunrise in Preah Vihear province, 543 km (337 miles) north of Phnom Penh in this March 13, 2009 file photo. [Photo/Agencies]