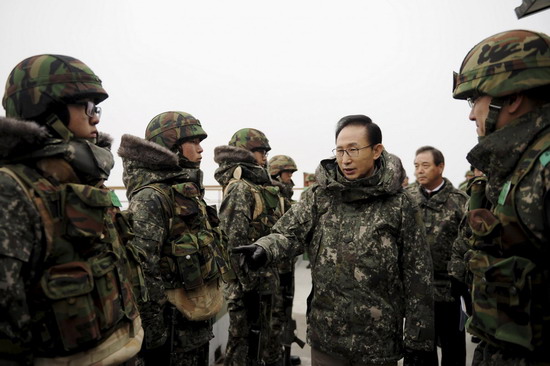 The Republic of Korea's President Lee Myung-bak (C) encourages army soldiers during his visit to a military observation post of the front-line unit in the demilitarized zone in Yanggu, far northeast of Seoul, December 23, 2010. [Photo/Agencies]
SEOUL - The Republic of Korea (ROK) labeled the Democratic People's Republic of Korea (DPRK) government and its military an enemy in the latest defense white paper released Thursday by the defense ministry in Seoul.
Related readings:

 Seoul report cites DPRK military build-up

 ROK calls for talks on the DPRK


 DPRK: Peaceful use of nuclear power legitimate right


 ROK President expects Six-Party Talks to resume

The biennial paper opted for a harsher description of the DPRK than the more nuanced "direct military threat," adopted by the previous liberal administration of Roh Moo-hyun.
But it still stops short of calling the DPRK the "main enemy" of ROK, as many had predicted in the wake of Pyongyang's alleged torpedo attack on a ROK warship in March and the artillery exchange between the two sides near a ROK island in November.
The controversial "main enemy" tag, introduced in 1995, was dropped in 2004 by Roh amid growing reconciliatory mood between the former wartime rivals.
The DPRK's government-run website Uriminzokkiri protested Wednesday Seoul's decision to call it names, claiming the move amounts to a "declaration of war."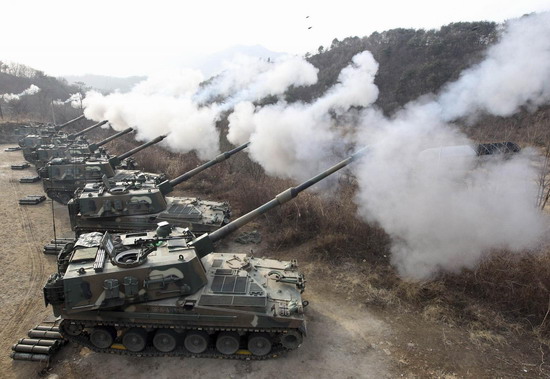 The Republic of Korea's K-9 self-propelled guns fire live rounds during air and ground military exercises on the Seungjin Fire Training Field, in mountainous Pocheon December 23, 2010. [Photo/Agencies]