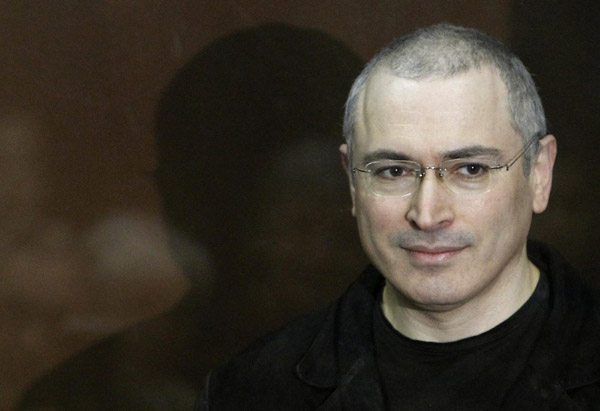 Jailed Russian former oil tycoon Mikhail Khodorkovsky stands in the defendants' cage before the start of a court session in Moscow December 27, 2010. [Photo/Agencies] 
MOSCOW - A Russian judge pronounced Mikhail Khodorkovsky and his business partner Platon Lebedev guilty of embezzlement on Monday at the end of the jailed former oil tycoon's second trial.
The judge said the two men were also guilty of laundering stolen oil funds. Sentencing was not expected until later.
The accusation of stealing oil from his now-defunct company Yukos was the main charge against Khodorkovsky in the trial.
Prosecutors have asked the judge to sentence Khodorkovsky to six more years in prison on top of the eight years he is serving now.
Reading the verdict in the trial, judge Viktor Danilkin said the court had established that Khodorkovsky and Lebedev "carried out the embezzlement of property entrusted to the defendants."
Enclosed in a glass-and-steel courtroom cage, Khodorkovsky and Lebedev pointed ignored the judge as he read out the widely expect guilty verdict, whispering to one another and reading books and documents.
A crowd of a few hundred supporters outside the courthouse chanted "Freedom!".
Khodorkovsky, once Russia's richest man and head of its biggest oil producer, is nearing the end of an eight-year sentence imposed in a fraud and tax-evasion trial that shaped Vladimir Putin's 2000-2008 presidency.
In his new trial, prosecutors argued he stole $27 billion in oil from Yukos subsidiaries through pricing schemes. His lawyers dismiss the charges as an absurd, politically motivated pretext to keep him behind bars.
Dressed in black, Khodorkovsky, 47, was led into the cage in the Moscow shortly before Danilkin entered and began reading the verdict. Dressed in black and looking pale but composed, Khodorkovsky waved and flashed a smile to the packed room.
It was unclear when the judge would finish reading the verdict and announce a sentence.