BEIJING - An investigation is under way as rescue ships have failed to locate a missing Chinese fisherman whose boat collided with a Republic of Korea (ROK) patrol ship, a source from the China Fishery Administration Commanding Center said on Sunday.
The inquiry also came as ROK Coast Guard officials questioned three Chinese fishermen rescued from the vessel on the same day.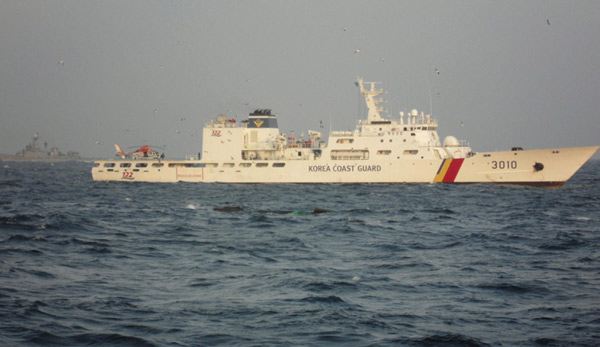 A Chinese trawler (C) capsizes after a collision with an ROK Coast Guard ship in the early afternoon of Dec 18. [Photo/Agencies] 
The 63-ton Chinese fishing boat, the Liaoyingyu 35403, with 10 fishermen on board, capsized after a collision with an ROK Coast Guard ship in the early afternoon of Dec 18, leaving two fishermen dead and one missing as of press time, the official from the commanding center said, speaking on condition of anonymity.
The ROK's Yonhap News Agency reported that the incident took place 120 km off Eocheong Island, but the source told China Daily that "it remained unclear whether the waters fall into the scope of ROK's water area".
Eight of the crewmembers were plucked from the waters by other Chinese fishing boats and ROK Coast Guard ships, but one man remained unconscious, and died later on the way to the hospital, the source said.
The Chinese Consulate in Gwangju in the ROK confirmed the death of Li Hongtao, the trawler's captain. A senior ROK Foreign Ministry official expressed regret over the death of the Chinese fisherman in a phone call to the Chinese Consul General in Seoul.
Beijing dispatched a professional rescue ship at 9 pm on Saturday for a joint search mission with ROK helicopters, an official surnamed Zhang from the China Maritime Search and Rescue Center said in a telephone interview on Sunday.
The ROK Coast Guard said there were dwindling hopes for the only missing man to be alive after the day-long search operation, considering the freezing conditions at sea, according to Yonhap.
Relevant organizations from the Chinese side have stepped up the pace of the investigation, including the evidence collecting and coordination with different counterparts from the ROK that have embarked on the case.
The ROK's Coast Guard vowed to report the incident to Beijing through diplomatic channels, but the Chinese Foreign Ministry has yet to comment on this issue.
The ROK accused the Chinese vessel of engaging in "illegal fishery", but China and the ROK had agreed on a fishery deal to regulate the working areas of fishing boats from both sides and commonly exploit ocean resources in an orderly and cooperative fashion.
So the Chinese vessel "should be working in line with relevant rules", the source said.
But the Chinese side "will look into the case seriously before making any prior judgments", the source added.
"The top priority is trying to find the missing fisherman."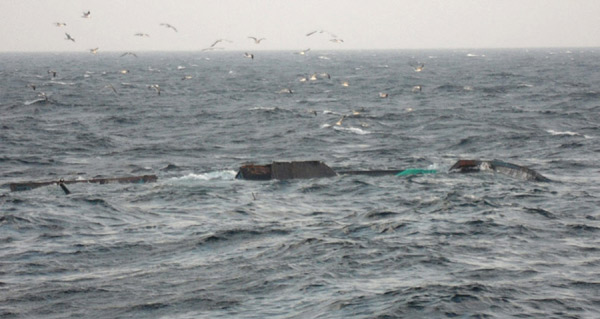 A Chinese trawler (C) capsizes after a collision with an ROK Coast Guard ship in the early afternoon of Dec 18. [Photo/Agencies]