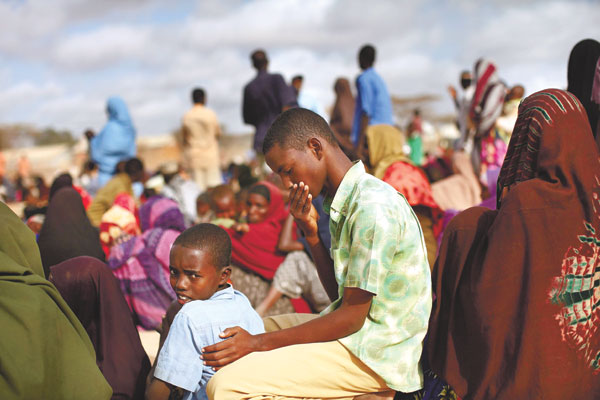 People wait in line at a Kenyan processing center for new arrivals in Dadaab, the world's biggest refugee camp on Aug 20, 2009. Hundreds of thousands of Somalis have fled across the border to escape the war that has ravaged their nation. [Spencer Platt / Getty Images]
Rapid infiltration
The majority of Somali elites are based in the Kenyan capital, Nairobi, where people such as Mohamed Qanyare Afrah, once a powerful warlord in Mogadishu and now a Somali Member of Parliament aiming for presidency, can be spotted sipping coffee in a downtown cafe on a casual Sunday afternoon.
Somali refugees and immigrants who have lived in Kenya for generations, however, find themselves in a profoundly more hostile environment.
Kenya's Somali population was around 800,000 at the turn of the century but has since soared to 2.4 million. Many reside in North Eastern Province or Eastleigh, a predominantly Somali-inhabited district known as "Little Mogadishu".
Somali rights groups accuse Kenyan policymakers of marginalizing Somalis out of fears about Al-Shabaab's rapid infiltration into the country. Others, mostly young, optimistic men like Feisal, are making constant bus rides around Somali communities looking for jobs, only to return empty handed every time.
Among the thousands luck has failed is Mohamed Amin, 19. After spending an entire year unsuccessfully trying to find work in Eastleigh, he turned to the Internet for solace and amassed 500 friends from across the globe on Facebook.
Today, Mohamed proudly sees himself as "sort of a celebrity" in the cyber world, although financial troubles are never a part of the Somali-Kenyan's online conversations. He said: "If you tell friends your problems, you will lower yourself."
Unemployment is a key threat to Somali communities in Kenya, said Muhyadin Ahmed Roble, a Nairobi-based Somali journalist.
"Outside the communities, it's hard to find a job if you're a Somali ... but Al-Shabaab has lots of money," he said. "They give money and cell phones to children and recruit people."
The Islamist group also funds and has de facto control over a rising number of Muslim schools in southern Somalia and parts of Kenya, where youngsters and women are systematically trained to be jihadists, according to Muhyadin.
"Education changes everything. We teach people to behave. If not, they ... you know," said Hassan Faliir, manager at the COMPIT Training Center, Eastleigh's leading educational institution with a student population of 2,800, many of them Somalis.
Classrooms in the center's headquarters on the second floor of the Sunrise shopping mall are each equipped only with a few rows of crumbling wooden desks and chairs. On one classroom door is part of a verse from the Quran in English that has been printed with a blue-ink ballpoint pen. It reads: "Surely Allah does not change the condition of a people until they change their own."
COMPIT, which offers primary and secondary school education and aims to open a college in two years, relies on students' tuition fees to operate and is in dire need of donations and outside funding, said Hassan.
Similar institutions have even fewer financial means to compete with Al-Shabaab, which exploits Somali-Kenyan residents' collective frustration and experiences of alienation with promises of offering them a clear purpose of being.