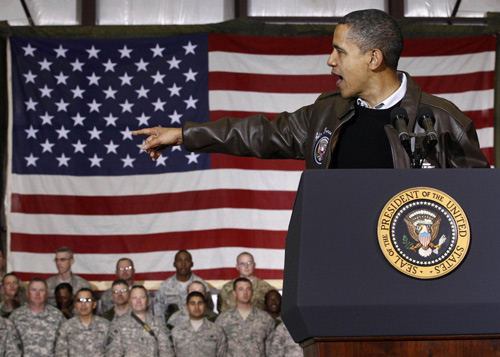 US President Barack Obama meets with troops at Bagram Air Base, December 3, 2010. [Photo/Agencies]
Purple heart medals
He awarded five Purple Heart medals in the Bagram hospital.
Jimmy Settle, 33, a paramedic and rescue specialist shot two weeks ago during a rescue mission said Obama's speech and visit were motivating and his recognition of the pain of being separated from families near the holidays "hit home."
As usual with such trips, Obama's visit was not announced previously for security reasons. He was spirited out of the White House secretly on Thursday night and flew overnight aboard Air Force One for the surprise trip to Afghanistan.
Not everyone was thrilled to see Obama. One Air Force captain, who did not want to give his name, said he would have preferred extra sleep to a late evening presidential visit and disagreed with plans to start moving foreign troops out by 2011.
Obama has set a mid-2011 target to start the withdrawal, and US and NATO officials say they aim to complete the handover to Afghan forces by 2014, a goal set by Karzai.
"They both acknowledged that early 2011 is not far off and that this has to remain a priority for both of them, to begin the transition process," Lute told reporters.
Obama's Republican critics have criticized the July 2011 timeline, saying that announcing a date emboldens the Taliban.
In addition to talking to Karzai, Obama got briefings from key advisers, including General David Petraeus, the top commander of US and NATO forces in Afghanistan, Karl Eikenberry, the US ambassador to Afghanistan, and special forces commanders.
While Obama had planned to meet Karzai, he had no new message to deliver since the two had met recently at the NATO summit in Lisbon, White House aides said.
US officials have said they believed NATO forces were making progress in training Afghan security forces, who will take control of security as foreign troops begin to leave.
The December review will assess and potentially recommend changes to the strategy Obama rolled out a year ago when he ordered 30,000 additional US troops to the war zone, although his team says there will be no major shifts.
"This is a process which is diagnostic in nature. This is not a policy review similar to the one that was undertaken last year. We have a strategy in place," Ben Rhodes, deputy national security adviser for communications, told reporters on Air Force One before the visit to Afghanistan.
"We'll assess that strategy and review the need for any adjustments, but these adjustments, again, won't be of the nature of a policy overhaul.