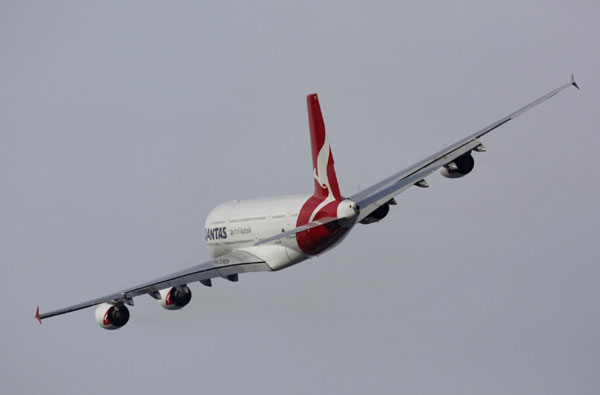 Qantas Airways flight QF31, an Airbus A380 bound for Singapore and London, takes off from Sydney airport Nov 27, 2010. [Photo/Agencies]
SYDNEY – A Qantas A380 carrying more than 450 passengers, including the airline's chief executive, took to the skies Saturday in the first flight by one of its superjumbos since a midair engine explosion three weeks ago triggered a global safety review.
Related readings:


 Terror plot thwarted as US-bound explosives seized


 Bomb on US-bound flight


 Seagull 300 takes to the sky in maiden flight


 Indonesia's leading carrier cancels int'l flight
Qantas CEO Alan Joyce said he was flying the first leg of the Sydney-Singapore-London flight as a sign of the airline's conviction that it had completed all modifications and other checks on the Rolls-Royce engines, and the planes were safe to fly.
"We are 100 percent comfortable with it," Joyce told reporters. "If we weren't, we wouldn't be restarting the operations today."
But Australia's flagship airline suffered another public relations setback the same day when a Boeing 747 flight from Sydney to London via Bangkok was grounded in Sydney overnight due to a "wiring issue," Qantas spokesman Tom Woodward said.
Flight QF1 with 351 passengers aboard was taxiing toward take off at 6:05 pm local time (07:05 GMT) when the pilot detected a problem with one of the jet's four Rolls-Royce engines, he said.
The flight was canceled at 9 pm because there was insufficient time to fix the fault before an 11 pm curfew for planes taking off and landing at Sydney airport, he said.
Qantas grounded its six A380s after a Rolls-Royce Trent 900 engine on one of the superjumbos disintegrated shortly after takeoff from Singapore on Nov 4, sending shrapnel slicing through a wing and causing multiple problems for the pilots before they managed to safely land the jetliner back in Singapore.
Investigators say leaking oil caught fire in the engine and heated metal parts, causing them to disintegrate. Experts say chunks of flying metal cut hydraulics and an engine-control line in the wing of the A380, causing the loss of control of a second engine and loss of some braking power, fuel leaks and more than 50 on-board warnings.
It was the most serious safety incident for the world's largest and newest jetliners. Other airlines using the Trent 900 engine on A380s - Singapore Airlines and Germany's Lufthansa - also briefly grounded some planes while safety checks were conducted.
Qantas' checks have been more exhaustive than those of the other airlines. It has replaced 16 of the Trent 900 engines - each A380 has four of the bus-sized engines.
Qantas is putting just two of its A380s back into service while modifications are made on engines on the other aircraft in its fleet. The plane that suffered in the midair blowout is still in Singapore, where investigations are continuing.
Qantas says it will eventually pursue compensation from Rolls-Royce for the failure and losses from grounding its fleet, but that it is confident the problem has been fixed.
The airline is due to take delivery of two more A380s with Trent 900 engines in coming weeks, and Joyce says they will be put directly into service.
But Qantas has suspended A380s from its longest-haul flights - from Australia direct to Los Angeles - while it tests whether extra thrust for takeoff on these routes creates too much stress on the engines.
The Australia-US flights are among the longest nonstop commercial flights in the world, and the A380s must load up on more fuel than on other flights to make them. That means the planes are heavier at takeoff and need more thrust.
The thrust Qantas uses is within the certified specifications of the Trent 900, and the manufacturers and the European regulator that ensures safety standards consider it safe to fly those routes. Qantas says the suspension is precautionary because it wants to conduct its own tests.
Saturday's flight used a reduced thrust setting.
"We are reducing the thrust as a precaution, and that's all it is," said Capt. David Evens who was piloting Saturday's flight. "We are 100 percent confident - otherwise I wouldn't be here today," he told a news conference with Joyce shortly before the flight.
Woodward said Saturday's flight left Sydney a few minutes late on Saturday but with no problems.
The Australian Transport Safety Bureau, which is leading an international investigation into the Nov 4 blowout, is due to release its initial report by Dec 3. The bureau's final report could take up to one year.