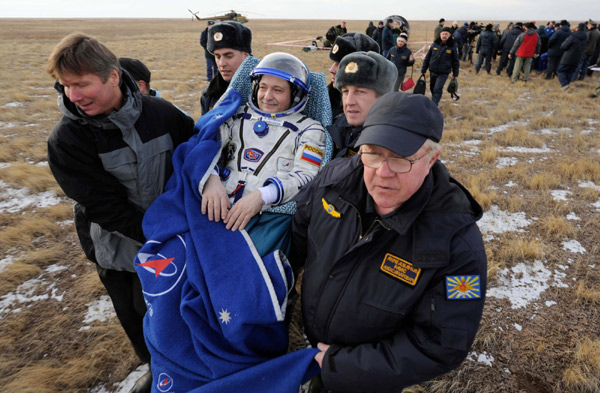 Specialists carry US astronaut Douglas Wheelock after he landed near the town of Arkalyk in northern Kazakhstan, Nov 26, 2010. The Soyuz TMA-19 spacecraft manned by Commander Fyodor Yurichikhin and NASA's Wheelock and Shannon Walker landed safely in Kazakhstan on Friday. [Photo/Agencies]
MOSCOW - A Russian cosmonaut and two US astronauts came safely back to Earth from the International Space Station (ISS) in a Soyuz capsule on Friday, Russian Mission Control said.
Soyuz commander Fyodor Yurchikhin and astronauts Douglas Wheelock and Shannon Walker landed at 4:47 GMT near Arkalyk in the steppe of Kazakhstan. They have been on the ISS since June 18.
"Lowering from orbit and landing operations were carried out as planned. The cosmonauts are in good health," Russian Mission Control said in a statement.
Related readings:


 Space station's spectacular views of Earth


 Russia starts building new space rocket


 Manned space station set for 2020
"So long, guys, we are going home!" Yurchikhin said over footage of the Soyuz floating away from the station.
Four hours later the first television reports showed the three crew members sitting near the landing site covered in blankets and smiling. "Hi Mom!" said a giant sign held up by Wheelock.
They were served tea immediately amid temperatures of around -10 C. Walker and Wheelock will fly straight to the United States from Kazakhstan while Yurchikhin will return to Moscow.
Five space launches are planned for December, including one manned Soyuz launch and four Glonass-type satellites, said Roskosmos chief Anatoly Perminov, Russian news agencies reported.
He said a joint flight to Mars is still planned for 2030 by 26 space agencies. "Of course a flight like that can be done individually by the United States, Russia, or China," he said. "But given the cost and reasonability, everyone is in favor of a joint program."
"Many countries have returned to the idea of creating habitable stations on the moon. But the main planet to which agencies direct their gaze is Mars," RIA Novosti agency quoted him as saying.
The return was originally scheduled for Nov 30, but Roskosmos requested to move the date four days earlier due to the Organization for Security and Cooperation in Europe summit in Astana, Kazakhstan, on Dec 1-2.
Kazakhstan is restricting air space for several days prior to the summit, and Russia's space authorities requested an earlier landing, a Roskosmos spokesman told RIA Novosti earlier this month.
In the course of their mission, the crew members worked on microgravity experiments in various fields, and had to carry out three unplanned spacewalks to repair the station's external cooling system after an emergency shutdown, NASA said in a statement.
The crew enjoyed a Thanksgiving dinner of "rehydrateable turkey and dressing" the night before the voyage, NASA's Scott Kelly, who remains on the station, wrote on Twitter.
Also remaining on the ISS are Russian cosmonauts Alexander Kaleri and Oleg Skripochka.
They are to be joined by Russia's Dmitry Kondratyev, Paolo Nespoli of the European Space Agency, and NASA's Catherine Coleman, who will launch from Baikonur on Dec 15.
Agence France-Presse