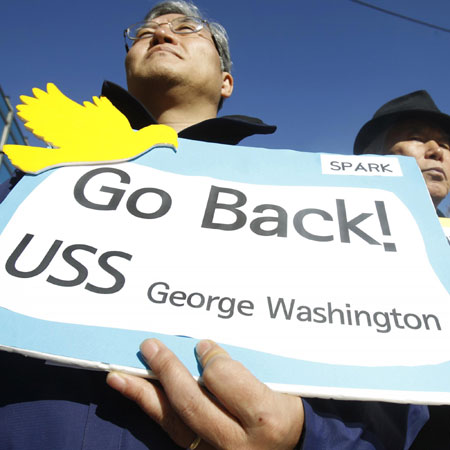 Pro-unification activists chant slogans at a rally against the joint military drills of US and ROK in front of a US army base in Seoul November 26, 2010. [Photo/Agencies] 
SEOUL - The Democratic People's Republic of Korea (DPRK) said on Friday the Republic of Korea (ROK) and the United States were pushing the peninsula to "the brink of war" with their plan to conduct large-scale military drills, days after the rival Koreas exchanged artillery fire.
"The situation on the Korean Peninsula is inching closer to the brink of war due to the reckless plan of those trigger-happy elements to stage again war exercises targeted against the (DPRK)," the DPRK's official KCNA news agency said. 
The United States is sending in naval ships, led by the nuclear-powered aircraft carrier USS George Washington, to the Yellow Sea for military exercises with the ROK navy.
"The exercises will be held on Sunday as planned and the George Washington is on its way here to arrive on Sunday," said a spokesman for US Forces in ROK.
The DPRK has an overwhelming advantage in terms of quantity of military assets at the border and, despite ROK's boasts that it has a technical edge, the ROK's presence on Tuesday proved to be no deterrent to the attack on the island of Yeonpyeong.
Three of the six K-9 long-range mobile artillery pieces on the island that was hit by dozens of 170 artillery shells were out of service.
The three remaining have ranges shorter than the 14 km or more to the DPRK's dozens of artillery bases dotting its coastline. The bases include at least two that can launch cruise missiles that can hit major centres in mainland South Korea.
The location of the five islands that lie just south of the disputed maritime sea border and of the DPRK's mainland but up to 180 km from the ROK's coast make their defence inherently difficult.
The rules of engagement call for air and navy assets to reinforce about 5,000 Marines stationed on the islands. Tens of thousands of troops -- as many as 100,000 -- are believed to be based along the DPRK's side of border.