RIO DE JANEIRO - Brazilians are expected to elect a woman as president for the first time on Sunday, backing her to emerge from the shadow of President Luiz Inacio Lula da Silva and extend the country's run of prosperity.
Last-minute doubts over left-leaning Dilma Rousseff's character and religious beliefs cost her outright victory over centrist opposition rival Jose Serra in the election's first round a month ago.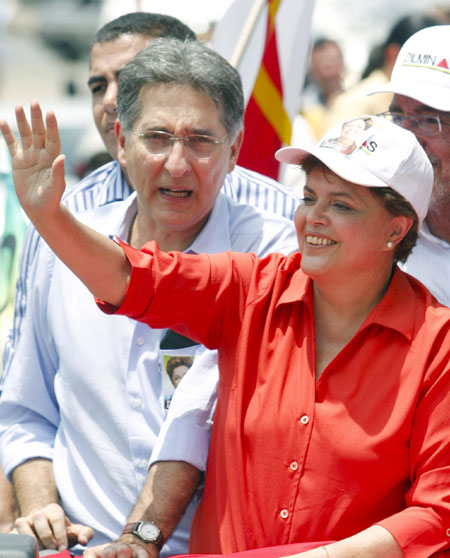 Brazil's presidential candidate for the ruling Workers' Party Dilma Rousseff waves to supporters during a campaign rally in Belo Horizonte October 30, 2010. [Photo/Agenices]
Ahead of Sunday's runoff vote, however, opinion polls tell a consistent story -- that voters have quelled such concerns, care more about the economic gains of recent years, and are ready to give Rousseff a chance to build on Lula's legacy.
The double-digit lead in polls enjoyed by Rousseff of the ruling Workers' Party means that Serra, a career politician who most recently was governor of Brazil's wealthiest state, has a mountain to climb if he is to pull off a shock victory.
Serra has escaped seemingly bleak situations before. As an exiled student in Chile in the 1970s, he cheated possible death by persuading soldiers who had rounded him up and later killed hundreds of others that he had diplomatic immunity.
The 68-year-old now needs another impressive escape trick on Sunday after a lackluster campaign in which he has seemed to be on the wrong side of history.
"Either the polls are getting it wrong or he needs a miracle," said Rafael Cortez, a political analyst at Tendencias consultancy in Sao Paulo.
Brazil has banished its old reputation as an economic basket case and become an engine of global growth as Lula's mix of pragmatic policies and social programs have reduced poverty and vaulted millions into a bulging middle class.
Enough of that economic feel-good factor and Lula's star power have rubbed off on his former chief of staff to make Rousseff the favorite, even though the sometimes dour former leftist militant has failed to win Brazilians' affection.
Voting in Latin America's largest country is electronic, allowing authorities to tally votes in just a few hours. Ballot booths open at 8 a.m. (1000 GMT) and the electoral authority will start announcing partial results after 7 p.m. (2100 GMT).
The wildly popular Lula, who lost three elections before finally winning the presidency in 2002, is not on the ballot for the first time in two decades but has still dominated the campaign, using all of his gruff charm to persuade voters that Rousseff is a strong manager capable of succeeding him.
That has allowed Rousseff, a 62-year-old cancer survivor who has never held elected office, to stick to a safe, well-trodden script that has convinced many voters but given few glimpses of her personality or detailed policy plans.
THIN POLICY DEBATE
Some see the lack of policy debate as worrying at a time when Brazil is facing several challenges to its global competitiveness, including a currency near two-year highs, loose fiscal spending and a suffocating bureaucracy.
"Little or nothing has been made explicit, for example, about what Dilma or Serra plan to do on economic policy. They have omitted proposals on foreign exchange, fiscal and monetary policy," Folha de Sao Paulo newspaper said in an editorial.
Rousseff is expected to broadly maintain Lula's policies, shying away from major economic reforms and instead focusing on improving government efficiency, cutting bureaucracy and expanding the state's role in some strategic areas.
Serra would follow a similar path but would probably be preferred by investors for his tougher fiscal stance and greater acceptance of the private sector.
Still, the campaign was dominated for weeks by Rousseff's past views on abortion and her alleged involvement in corruption scandals as Serra went on the attack and briefly narrowed her lead in opinion polls.
Serra and his PSDB party have said the polls, which overestimated Rousseff's lead in the first round, are unreliable and biased. But the tide seemed to turn decisively against him when the Green Party, whose candidate Marina Silva made a strong showing in the first round, decided to stay neutral in the runoff.
The former health minister needed to rally voters in Brazil's wealthier southeast for the runoff vote, including his political base in financial capital Sao Paulo. But polls show that many have been turning to Rousseff instead.