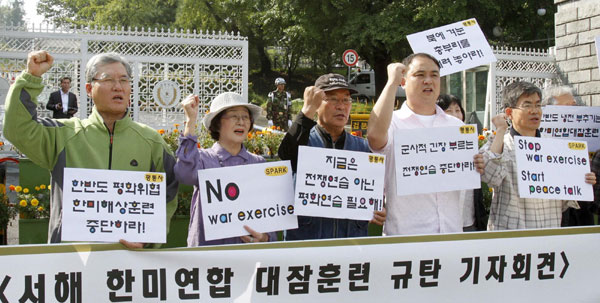 Anti-war activists shout slogans during a rally denouncing the ROK-US joint military drill as a soldier (behind) stands guard in front of the headquarters of the Defense Ministry in Seoul September 27, 2010. [Photo/Agencies]
SEOUL - The Republic of Korea (ROK) and the United States began Monday anti-submarine drills in the Yellow Sea, the latest in a series of planned show of joint military prowess against the Democratic People's Republic of Korea (DPRK).
Related readings:


 DPRK denounces US-ROK exercises as provocation


 DPRK:ROK responsible for reunion talks' failure


 DPRK,UN command in talks on ROK ship sinking


 ROK, DPRK to hold on family reunion
The five-day joint naval exercises, the second by Seoul and Washington staged in response to the fatal sinking of a ROK warship in March blamed on the DPRK, will involve about ten ships including two US destroyers, submarines, patrol planes and some 1,700 troops from both sides.
Pyongyang, repeatedly denying its role in the alleged torpedo attack that killed 46 ROK sailors, warned Sunday of a military counteraction against the combined naval exercises which it called "a military provocation to destroy the efforts for detente on the Korean Peninsula."
Seoul and Washington jointly staged massive naval exercises in late July, and are planning on another round of drills in late October.