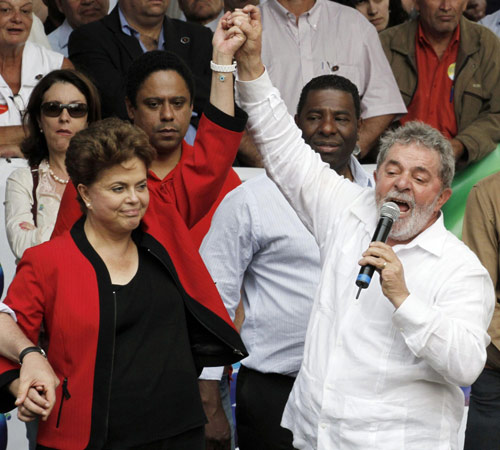 Brazil's President Luiz Inacio Lula da Silva (R) raises the hand of Brazil's ruling Workers' Party presidential candidate Dilma Rousseff during a campaign rally in Campinas, about 100 km (62 miles) from Sao Paulo, September 18, 2010. [Photo/Agencies]
Lula's candidate seems unstoppable on the coattails of his popularity
BRASILIA, Brazil - Dilma Rousseff, Brazilian President Luiz Inacio Lula da Silva's candidate to succeed him in October elections, seems to have an unassailable lead over her rivals, experts say. And nobody is more excited about the woman Lula has begun calling "the mother of Brazilians" than people in the land of her birth.
That would be Bulgaria.
Related readings:


 Elections no laughing matter in Brazil


 Gender inequality reduced but still persists in Brazil 


 Lula: Brazil to be world's 3rd largest economy
One of Sofia's main dailies, Trud, recently devoted two full pages to the former minister born in Belo Horizonte and her Bulgarian roots, Mercopress.com reported.
The Trud article was headlined "Dilma Rousseff, all my love to Bulgaria", based on the reply of the presidential candidate to a question from a Brazilian television channel.
"If Kenya celebrated the victory of Barack Obama, whose father came from that African country, Bulgaria is ready to celebrate 'Dilma' of Bulgarian descent", underlined another paper, Folha de Sao Paulo.
"We're a very small country and the possibility that someone whose father was Bulgarian could occupy such an important job really gets hold of us," said Jorge Nalbantov, from Sofia TV7. Nalbantov is scheduled to travel to Brazil to cover election day on Oct 3.
The latest polls give Rousseff, or Dilma as she is popularly known in Brazil, a commanding 22 to 24 point lead over nearest challenger Jose Serra, Sao Paulo's former governor.
If those figures hold up, Rousseff, 62, could emerge as Brazil's first woman president with a landslide victory - no need for an Oct 31 runoff.
That prospect has thoroughly dispirited Serra's camp.
Two weeks ago, Brazil's supreme court shot down a bid to have Rousseff's candidacy declared invalid because her aides had allegedly leaked Serra's private tax records.
Rousseff, a career civil servant, lacks the folksy charm of Lula, but she has benefited enormously from her mentor's support and a booming economy. Lacking that charisma and common people's touch, Rousseff stood her ground in a recent debate and stumbled less than she did during her first nationally televised faceoff with her rivals more than a month ago.
"Unless a true disaster happens, or a vast scandal is unmasked, everything indicates that Rousseff should win in the first round, given the scenario playing out up to now," says Brasilia University professor David Fleischer.
Rousseff, or "Dilma who?" when Lula handpicked her to succeed him a few months ago, has opened up the double-digit lead since campaigning began in July. A majority of projected voters backs her, despite last-minute attempts to brush her with scandal, thanks in large part to Lula's energetic personal support.
That's huge, because Lula will leave office in January with an approval rating of 80 percent after nearly eight years in office.
"He has been energetically campaigning on Ms Rousseff's behalf," The Economist writes in a recent analysis, "appearing alongside her at rallies and in her campaign literature, even though by so doing he has at times contravened Brazilian electoral law (as a result of which he has received seven fines, equal to [about $27,000], which he is expected to appeal).
"It's no longer tough to make predictions," says Ricardo Ribeiro of MCL Consultora. "Not only has Rousseff built a big advantage, but there are positive circumstances for the ruling party. The economy is doing well in general terms, the outlook is good and the electorate seems clearly inclined to favor continuity."
An economist by training, Rousseff served as Lula's chief of staff before stepping down in March to campaign for the presidency.
The opposition has made little headway presenting alternatives to the rule instituted by Lula over the past eight years, precluding in-depth debate over socioeconomic troubles.
"There is a discussion about how to continue everything the government has done well, or how to do better. As a result, the more important issues have fallen by the wayside, partly because some of them don't catch voters' attention directly, such as tax reform," Fleischer said.
Meanwhile, Rousseff has polished her campaign skills and softened her public image, as initially she came across as a stern technocrat. The former guerrilla fighter against the military dictatorship (1964-85) and former cabinet chief of President Lula da Silva is described in Bulgaria's media as the "Iron Lady" or the "Bulgarian Margaret Thatcher" and the "All powerful woman of the Lula da Silva government".
The new Dilma talks about her battle with lymphatic cancer last year (doctors say she is completely cured), as well as the prospect of soon becoming a grandmother. This helps to explain why she now attracts a greater share of female voters in polls, The Economist notes, "even though she still looks less comfortable speaking on television than her main rivals".
In fact, she looks so strong that she's already facing questions about re-election. "Dilma is in favor of reelection," the Foreign Policy Center magazine recently reported. "However, when asked if she could give up on reelection in 2014 if elected in October, she said: 'He [Lula] already told me not to answer that question'."
Agence France-Presse - Reuters