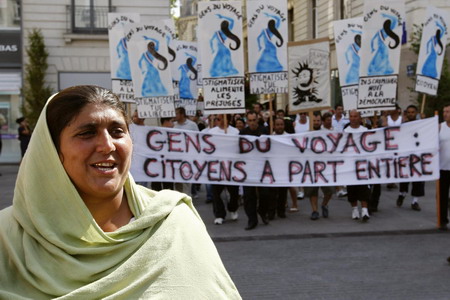 French opposition parties, unions and civil rights groups protest against President Nicolas Sarkozy's tough anti-crime proposals in Nantes, September 4, 2010. [Agencies]
PARIS - Thousands of French people including associations, political figures and artists walked to the streets across the country to protest against Sarkozy security measures on immigrants and Roma repatriation on Saturday.
According to the League of Human rights, 140 demonstrations were hold on Saturday across the European country. About 100,000 demonstrators marched through France's main towns of Paris, Marseille, Lyon, Lille and Toulouse to express their strong refusal to the repatriation of Roma illegal migrants and the revocation of the French nationality for immigrants found guilty of attacking police officers.
Related readings:


 Nationwide strikes in France against Sarkozy

 Sarkozy has no time for rumors about his marriage


 France to build Russia two warships: Sarkozy


 French probe allegations around Sarkozy funding
In Paris, 12,000 marchers were chanting the National Anthem and slogans denouncing "State racism." They waved French flags and placards on which were written "Deprived of liberty without a court order, thank you Brice," "No for Expulsion, no for State Racism."
"We are here to show our refusal to French people and to the international community and to tell them that there is an indignation and revolt against the racist and xenophobe actions. The facts of striping nationality form immigrants and dismantle Roma camps are unacceptable," said Olivier Besancenot, the head of NPA party said in remarks to BFM TV channel.
French head of State vowed in July to tight control on criminals and delinquency after two violent unrest swept across south-eastern and central France
The government expelled 151 illegal Roma migrants to Bucharest after dismantling 212 illegal camps as part of Sarkozy campaign to fight crimes and delinquency.
"The evacuation of illegal camps will continue because they are legitimate and necessary," Eric Besson, Immigration Minister said.
France targets to repatriate 700 Romanian at the end of this month despite rising angry voices accusing Sarkozy of feeding racism and creating more violence.
Politicians from the right, the left, the Catholic Church and a United Nations anti-racism panel urged Sarkosy to stop stigmatizing Roma and calls for integration.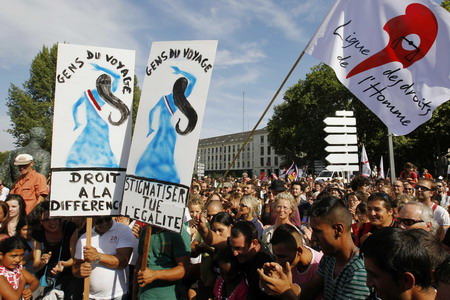 French opposition parties, unions and civil rights groups protest against President Nicolas Sarkozy's tough anti-crime proposals in Nantes, September 4, 2010. [Agencies]