Beijing - They cook for state leaders and royal households, serving up a vital ingredient at international banquets.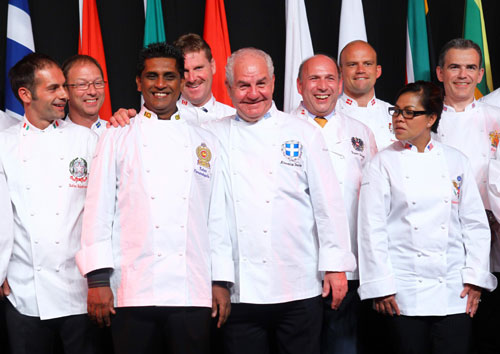 Club des Chefs des Chefs gathers for its annual gastronomic retreat. Zou Hong / China Daily 
And the 22 top chefs with a recipe for success enjoyed hanging out together in Beijing and Hong Kong during their big annual gathering, sharing best practices and advice on how to keep the world's leaders in good health and cater to the dietary needs of the planet's decision makers.
Related readings:


 Marry G20 and IMF


 How can Asia raise its pitch at G20


 G20: achievements and prospect


 What kind of G20 summit does the world need?
The 22, who cook for royalty, presidents and governments from countries including the United States, France and China, meet once a year in what some refer to as a sort of G20 culinary summit.
Members of the Club des Chef des Chefs spend one week each year at the event, and, each year, a different country hosts them.
This year, they gathered in Hong Kong and Beijing between Aug 18 and 25.
The consensus around the kitchen table was that world leaders are increasingly valuing good health when it comes to diet.
"President Hu (Jintao) and Premier Wen (Jiabao) both prefer a light diet and choose low-fat seafood and vegetables over meat," said Ji Genfa, one of four Chinese chefs from Beijing's Great Hall of the People, who was at the event.
US President Barack Obama and his family are also healthy eaters, according to their chef, Cristeta Comerford.
Comerford, who was the only female chef at the event, cooks in the White House kitchen for the US's first family.
She said tomatoes that she grows in the garden at the White House are among President Obama's favorite ingredients.
Even French president Nicolas Sarkozy loves light food, according to Bernard Vaussion who has now served four French presidents.
"They (the former presidents) adored traditional French cuisine with lots of plates on the table while Sarkozy prefers white meat and eats more fish," he said.
But when asked to be specific about what each leader chooses for their favorite meal, the chefs were coy, joking that such information was a culinary state secret.