TOKYO - Japanese ruling party powerbroker Ichiro Ozawa said on Thursday he would challenge Prime Minister Naoto Kan in a party leadership vote next month, risking a bitter battle as the government struggles with a surging yen and a slowing economy.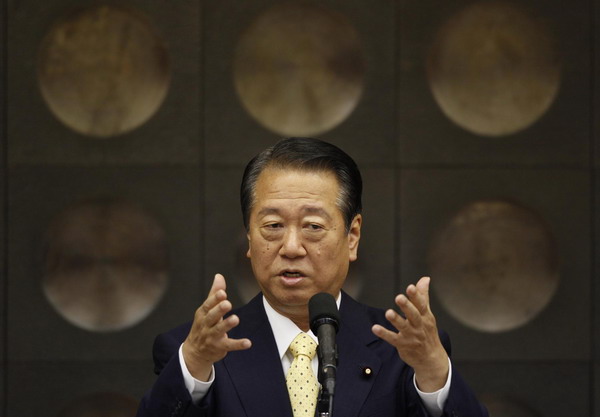 Japan's ruling Democratic Party former secretary general Ichiro Ozawa delivers a speech at a political seminar in Tokyo August 25, 2010. Japanese ruling Democratic Party powerbroker Ichiro Ozawa, a critic of proposals to raise the sales tax to rein in huge public debt, is considering running against Prime Minister Naoto Kan in a party leadership contest next month, local media said on Thursday. [Agencies] 
Kan, who took over in June as Japan's fifth prime minister in three years, is fighting for his job after an election loss in July deprived the ruling bloc of a majority in parliament's upper house, forcing it to seek opposition help to enact bills.
Related readings:


 Japan lawmaker: Americans are simple-minded


 Farewell to the shadow shoguns


 US a no-show as Japan remembers Nagasaki


 Japan PM vows to make new start after election loss
Ozawa has blasted Kan for floating the idea of a future sales tax increase right before the July upper house election. While Kan has since toned down his calls for debate on the tax, Ozawa's allies have called for a showdown in the party vote on Sept. 14.
Ozawa, who heads the biggest group of lawmakers within the ruling Democratic Party of Japan (DPJ), poses a threat to Kan, although analysts say it is unclear if many would back him given the risk he faces of indictment in a political funding scandal and his low voter ratings among voters.
"I think Ozawa has a 40 percent chance of winning," said Tomoaki Iwai, a political science professor at Nihon University. "He appears to lack the numbers, but he has a lot of support among the local party organisations and members in the regions."
Policy Vacuum
Analysts said whether Ozawa won or lost, the party was likely to fracture. And while the Democrats would likely stay in power in the short term, it was hard to predict how matters would play out.
"The scenarios are endless. Anything can happen," said Keio University professor Yasunori Sone. "But the bottom line is there is nothing positive about Ozawa's candidacy for the Democrats."
Kan nevertheless welcomed the challenge.
"It's a good move. The DPJ has had many leadership elections before, but it has never led to a split in the party," he told reporters in televised comments.
Analysts warned that Ozawa's candidacy would create a policy vacuum, clearing the way for market players to push the yen higher against the dollar and threatening further declines in share prices.
"The fact that Ozawa has said he'll run, given the reports that say Hatoyama will back him up, means that whatever Kan might say about policy, the markets won't listen," said Norihiro Fujito, general manager at Mitsubishi UFJ Morgan Stanley Securities.
Japan is struggling to put a cap on the surging yen, which hit a 15-year high against the dollar this week and threatens to derail an export-led recovery.
But jawboning by authorities has had little impact and experts question whether even intervention in the currency market would work unless the Bank of Japan acts boldly to ease monetary policy, a step central bankers appear reluctant to take.
Efforts to craft economic steps to keep the recovery on track are also constrained by a public debt already twice the size of Japan's nearly $5 trillion economy.
"Possible political confusion could hamper the decision-making process and that will not help support the economy ... Even if Ozawa wins, I don't think he would come up with effective economic steps," said Junko Nishioka, chief economist, Japan, at RBS Securities.
Former Prime Minister Yukio Hatoyama, still influential in the party, told reporters he would back Ozawa in the vote, which will decide the prime minister by virtue of the party's majority in the parliament's powerful lower house.
"Former Prime Minister Hatoyama told me that if I decide to run, he would fully cooperate and support me," Ozawa, 68, told reporters after meeting Hatoyama.
"So I decided to run then and there, although I am unworthy."
Opinion polls, however, show voters are put off by Ozawa's scandal-tainted image and his history as a wheeler-dealer who pulls strings behind the scenes.
Ozawa quit last year as DPJ leader over the funding scandal and stepped down as the party's No.2 in June.