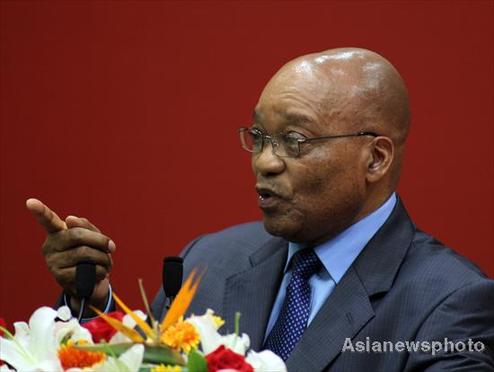 South African President Jacob Zuma is delivering a speech at Renmin University of China in Beijing on Wednesday. [Asianewsphoto]
BEIJING - South African President Jacob Zuma defended China's investments in Africa against Western claims of "colonization" on Wednesday, saying Africa enjoys an equal trade relationship with Beijing.
With the most prosperous economy in all of Africa, South Africa is also pursuing a stronger global role through membership in the internationally dominant BRIC group (Brazil, Russia, India and China), an option BRIC leaders are now considering, according to Zuma.
Related readings:


 Zuma rejects criticism on China's African policy


 South Africa's Zuma in China to boost trade


 Zuma hails benefits for S Africa


 South Africa's appeal boosted

In a speech at Renmin University of China in Beijing, Zuma said "China is there discussing with the brothers and sisters in Africa to create a mutually beneficial kind of relationship", which is "different from former Western colonialists (simply) taking things by force."
Today's investment relations between China and Africa, of course, are not without precedent, Zuma said, noting that Chinese traders first arrived on African shores hundreds of years ago.
What is happening now, he noted, is merely a continuation of this legacy - and an intensely positive one at that.
"In other words, not to colonize, but to help Africa stand on its own and work together with China," Zuma said.
Indeed, Zuma stressed that, in many cases, African countries cannot enjoy the same degree of equality in terms of business investment with Western countries that they do with China.
Moreover, many an African country is simply viewed dismissively as a "former colonial country", or "a former mother country."
"But China," he told 100 students and teachers, "is different".
Beijing has been increasingly under fire in the Western media and elsewhere for investing heavily in African nations while irrespective of their reputations on governance and human rights issues. But China asserts that its investment helps improve the lives of the African people by creating wealth, while opening these countries up to competition from other countries.
South African Trade Minister Rob Davies told The Financial Times, for example, that China's expanding presence in Africa "can only be a good thing" because it will increase competition for resources and influence in the continent.
"We don't have to sign on the dotted line whatever is shoved under our noses any longer," he told the British paper. "We now have alternatives and that's to our benefit,"
Zuma is on his first visit to China since taking office in May of last year, and is accompanied by 13 Cabinet ministers and a delegation of 370 business people.
Trade ties between Beijing and Johannesburg have grown rapidly in recent years, with China last year overtaking the US as South Africa's largest export destination.
For this reason, China is forging long-term relations with Johannesburg to jointly pursue relationships with other African nations.
It is a vision Zuma says Johannesburg sees as highly cohesive with the values of the BRIC nations - each of which his government has approached informally about a South African membership.
He was optimistic about being in league with a group that would heighten South Africa's international stature.
"We believe they will take a favorable decision," he said.
As no African nation is represented in the group, South Africa's participation in BRIC "would mean that an entire continent that has a population of over 1 billion people is represented," he said.
But Zuma declined to give a definite timeline of the decision of the membership.
China's foreign ministry is yet to respond to Zuma's comments.
World economic growth, according to Zuma, has shifted from the west to the east, and from the north to the south.
However, he added, this does not mean emerging economies should take full responsibility for world economic stability and growth, as some developed countries have been pushing for.
"Although countries like China, Brazil, India, and South Africa have an increasingly important role, it cannot be forgotten that they are still developing countries that have not yet overcome the challenges of poverty and inequality," said Zuma.
Yang Lihua, an African analyst at the Chinese Academy of Social Sciences, said that a possible membership of South Africa in the BRIC would certainly be conducive for African countries to play a bigger role in world affairs.
Indeed, he added, it is only fair that Africa be represented, as the BRIC is "a multilateral cooperative mechanism of emerging economies."
Tuesday marked the second day of Zuma's visit. He will later fly to Shanghai to visit the World Exposition site.
On Tuesday, Zuma met with Chinese President Hu Jintao when the two signed a "comprehensive strategic partnership", while business representatives signed memorandums of understanding on mining and energy cooperation and transport, among other agreements.