LOS ANGELES - The US government should halt the planned release of endangered sea turtles from an island off Texas because of the Gulf of Mexico oil spill, a California-based conservation group said on Wednesday.
In a letter to federal wildlife officials, the non-profit Turtle Island Restoration Network said the government should hold onto the hatchlings for now "to prevent them from swimming directly into oiled waters of the Gulf from the BP oil spill."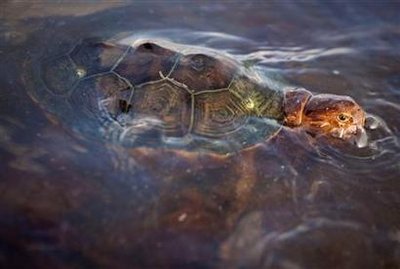 A sea turtle covered in oil from the Deepwater Horizon oil spill swims off Grand Terre Island, Louisiana in this June 8, 2010 file photo. [Agencies] 
But the National Park Service biologist who runs the turtle recovery program said government scientists thought the hatchlings were better off set loose as usual from their western Gulf nesting grounds, far from the spill's epicenter.
The dispute focuses on the fate of thousands of Kemp's ridley turtles, the world's smallest and most endangered marine turtle species, due to hatch over the next two months from incubation facilities on Padre Island National Seashore.
Located off the south Texas coast near Corpus Christie and administered by the Park Service, Padre Island is the largest stretch of undeveloped barrier island in the United States and the most important US nesting colony for Kemp's ridleys.
Under a 22-year-old project aimed at bolstering their population, the Park Service incubates turtle eggs removed from nests on the island and releases the baby reptiles by hand near the water's edge shortly after they hatch.
The idea is to improve their chances of survival by safeguarding nests from predators and high tides.
Still far from Harm's way
Related readings:


 Oil seeps into New Orleans' Lake Pontchartrain


 Oil spill reported in N Philippines


 Oil invades more wetlands as surf pounds Gulf of Mexico


 Oil-covered pelicans cleaned


 Oil spill endangers wildlife
The Kemp's ridleys in Texas are not included in a plan unveiled last month by the US Fish and Wildlife Service to collect tens of thousands of sea turtle eggs from the eastern Gulf Coast beaches of Alabama and Florida and move them to Florida's Atlantic Coast for hatching and release.
Most of those were laid by loggerhead turtles, a larger species that nests closer to the crude petroleum gushing from the floor of the ruptured BP wellhead on the Gulf floor off Louisiana.
Park Service scientist Donna Shaver, a sea turtle biologist in charge of the Padre Island program, said federal researchers considered relocating the Texas-based Kemp's turtles, too, but decided that the risks of such a move outweighed the benefits.
Turtle experts have raised concerns that moving hatchlings long distances from their nesting grounds might thwart their natural ability to navigate back years later to reproduce.
Although many 2- to-3-year-old Kemp's ridleys, classified as juveniles, are among hundreds of dead and impaired turtles collected in recent weeks along the eastern Gulf Coast, where the oil spill is concentrated, Shaver said Kemp's hatchlings have not been found to inhabit that part of the Gulf.
Instead, baby Kemp's ridleys are believed to stay well to the south and west of the spill zone. The relatively small amount of tar balls that have washed ashore near Galveston, Texas, are about 200 miles (322 km) northeast of Padre Island.
Shaver said the government might reconsider its stance if oil from the spill began to foul the waters off south Texas, posing a greater threat to Kemp's ridleys.
"But the contingencies that they're talking about weren't retaining turtles in captivity," she added. "They were looking for safer areas for release."
Five more clutches of Kemp's eggs -- likely to produce about 400 baby turtles -- are expected to begin hatching on Friday, with thousands more due to emerge by early August.