LOS ANGELES - A nurse famously photographed being kissed by an American sailor in New York's Times Square in 1945 to celebrate the end of World War Two has died at the age of 91, her family said on Tuesday.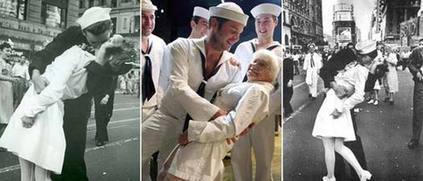 A combined photo shows Alfred Eisenstaedt's 1945 "Life" Magazine photograph (left and right) of a sailor stamping a passionate kiss on a nurse named Edith Shain and she tries to imitate the photo's embrace with Nick Mayo, foreground left, a member of the cast of the musical South Pacific as they pose with other South Pacific cast members at the Vivian Beaumont Theater in New York, Sunday Nov. 9, 2008. [Agencies] 
The V-J Day picture of the white-clad Edith Shain by photographer Alfred Eisenstaedt captured an epic moment in US history and became an iconic image marking the end of the war after being published in Life magazine.
Related readings:


 90-year-old says she's the nurse in photo


 Nurse in Times Square war photo reunites with Navy


 Nurse in Times Square war photo reunites with Navy
The identity of the nurse in the photograph was not known until the late 1970s when Shain wrote to the photographer saying that she was the woman in the picture taken on Aug. 14 at a time when she had been working at Doctor's Hospital in New York City.
The identity of the sailor remains disputed and unresolved.
From then on the photograph also made its mark on Shain's life as the fame she garnered led to invites to war related events such a wreath layings, parades and other memorial events.
"My mom was always willing to take on new challenges and caring for the World War II veterans energized her to take another chance to make a difference," her son Justin Decker said in a statement.
Shain, who died at her home in Los Angeles on Sunday, leaves behind three sons, six grandchildren and eight great-grandchildren.