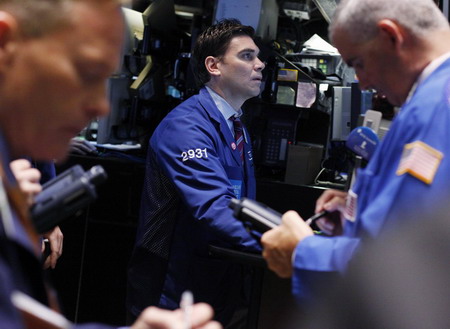 Traders work on the floor of the New York Stock Exchange in New York, June 9, 2010. [Agencies]
WASHINGTON - The New York Stock Exchange halted trading in Washington Post Co. shares Wednesday under a new system of market curbs, after the stock doubled in price in apparently erroneous trades.
It was the first day that new "circuit breakers" put in place last week, designed to prevent a repeat of last month's harrowing "flash crash," covered all 500 stocks in the Standard & Poor's 500 index.
Washington Post shares jumped from around $450 to $919 at about 3:07 p.m. EDT, according to the NYSE. Because the increase exceeded 10 percent within a five-minute period, trading in the stock was halted for about five minutes, in line with the new rules.
The three trades at around $919, which were made on the NYSE Arca electronic exchange, were deemed erroneous and were canceled.
"What happened today was not due to a substantive, true move in the stock. It was simply an error," NYSE spokesman Ray Pellechia said.
Rima Calderon, a spokeswoman for the media company, declined to comment. Securities and Exchange Commission spokesman John Nester also declined comment.
The stock ended regular trading at $458.19, up 37 cents from Tuesday's close. The company, which owns The Washington Post, Newsweek magazine, the Kaplan Inc. education business, and broadcast and cable TV properties, has seen its shares trade between $334.49 and $547.58 over the past 52 weeks.
The SEC put the new rules in place last Thursday. They call for US stock exchanges to briefly halt trading of major stocks that make big swings.
The rules for the new "circuit breakers" were worked out by the SEC and the major exchanges following the May 6 market plunge, which saw the Dow Jones industrials lose nearly 1,000 points in less than a half-hour.
Trading of any S&P 500 stock that rises or falls 10 percent or more in a five-minute span must be halted for an additional five minutes. The circuit breakers are applied if the price swing occurs between 9:45 a.m. and 3:35 p.m. Eastern time. That's almost the entire trading day. But it leaves out the final 25 minutes before the close, a period that often sees raging price swings, especially in recent weeks as the kind of volatility that marked the 2008 financial crisis returned.
The idea is for the trading pause to draw attention to an affected stock, establish a reasonable market price and resume trading "in a fair and orderly fashion," the SEC said last week.
On May 6, about 30 stocks listed in the S&P 500 index fell at least 10 percent within five minutes. The drop briefly wiped out $1 trillion in market value as some stocks traded as low as a penny.