SANTIAGO, Chile - The earth shook and shook Thursday as dignitaries walked in for the swearing-in of Sebastian Pinera as Chile's president. It shook some more as they waited for him.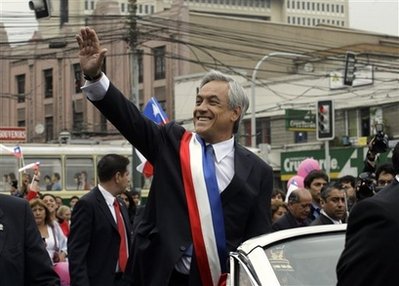 Chile's newly inaugurated President Sebastian Pinera, waves the the crowds after his swearing-in ceremony in Valparaiso, Chile, Thursday, March 11, 2010. [Agencies] 
People in the balconies of the vast congressional hall in coastal Valparaiso shouted warnings as a massive light fixture rocked overhead, and heads of state nervously eyed the ceiling. But a steely calm prevailed, and Pinera strode in smiling.
The president and his ministers then quickly swore their oaths, and the audience of 2,000 headed for the exits and the hills, joining an evacution called out of concern that Thursday's repeated aftershocks would set off another tsunami.
Inauguration Day was peppered with more than a dozen significant aftershocks, amply demonstrating Pinera's challenges after last month's magnitude-8.8 quake, one of the biggest in modern history.
Related readings:


 Chile lifts tsunami alert on coast after tremors


 New Chile gov't declares state of catastrophe after aftershocks


 Quake-torn Chile prepares for inauguration of new president


 Chile quake-area still shaking, death toll unclear

Chile's first elected right-wing president in 52 years won office promising to improve the economy. Now, he says he'll be the "reconstruction president." His advice to citizens: "Let's dry our tears and put our hands to work."
But relief efforts stalled Thursday as more than 10 earthquakes shook Chile in a span of six hours. The strongest, at 6.9, nearly matched the 7.0-magnitude quake that devastated Haiti on Jan. 12.
Pinera said there were no reports of more deaths, but a key highway suffered more damage in the inland city of Rancagua, and violent waves hit the coastal towns of Pichilemu and Bucalemu, Interior Minister Rodrigo Hinzpeter said.
Pinera urged citizens to heed the Chilean navy's tsunami warning and seek higher ground. Then he made a show of normality, greeting other presidents for lunch at the Cerro Castillo summer palace, where he left them at the table and boarded a helicopter to tour disaster areas.
"How was your welcome, president?" Pinera asked Argentina's Cristina Fernandez. "Moving, moving!" she joked.
The inauguration had lasted just 30 minutes, marked by three of the aftershocks. One prompted Colombia's Alvaro Uribe to leave the hall for several minutes as an announcer appealed for calm. Outgoing President Michelle Bachelet sat unperturbed as a nearby flower arrangement rocked back and forth.
Chile doesn't allow immediate presidential re-elections, but Bachelet remains popular. She left the hall to loud applause and a shout of "Come back soon, presidenta." Earlier Thursday, when a reporter asked if she'll run again in four years, she said it's not the time for politics.
Pinera called on Chileans to dedicate themselves to "this colossal job of reconstructing our country, of rebuilding better than what we had before, not just to lift up our schools, our hospitals, our homes, but also to make them better, and also to lift up the soul of our country."
"I am sure that just as we have done so many times, the Chilean people will rise up to this challenge," he said.
The Feb. 27 earthquake — the fifth-strongest since 1900 — killed 497 identified victims and potentially hundreds of others, destroyed or heavily damaged at least 500,000 homes and broke apart highways and hospitals. Recovery costs could soar above $15 billion, including $5 billion for infrastructure alone.
Thursday's quakes terrified many who have been living in and around quake-weakened homes since last month's massive temblor. Tall buildings swayed and windows rattled in downtown Santiago. In Talca, supermarkets closed for fear of looting. And just before Pinera visited coastal Constitucion, survivors and volunteers building 60 emergency shelters fled uphill in panic.
The strongest of the aftershocks — magnitude 6.9 — was Chile's most powerful since Feb. 27, and occurred along the same fault line, said geophysicist Don Blakeman at the US Geological Survey in Golden, Colorado.
Chile's navy and emergency management office were much criticized for failing to issue a tsunami alert that might have saved hundreds of lives from the towering waves that followed the initial quake. This time, the alert went out — Pinera said an overabundance of caution was called for.
"Everything stopped — my meetings with business owners, work, life, everything has been paralyzed," said Mayor Gaston Saavedra of Talcahuano, where waves shoved huge shipping containers into downtown buildings last month.
Pinera repeatedly called for courage as he toured Constitucion, where he left 130 flowers along the riverbank for the dead and missing caught in the tsunami. He signed an order giving one-time cash handouts of $76 each to 4.2 million disaster survivors, and said he would send laws creating subsidies and tax-deductible donations to congress in the morning.
The billionaire investor, Harvard-trained economist and airline executive is known for his impatience with bureaucracy and ill-prepared aides. He quickly returned to Santiago, where he planned to speak from a balcony at the La Moneda presidential palace, and then work past midnight with his ministers.
Pinera had vowed to spend billions to make Chile "the best country in the world," accelerating economic growth, creating 1 million jobs and combatting crime while maintaining popular social programs that gave Bachelet 84 percent approval ratings.
His victory ended 20 years of center-left governments that followed Gen. Augusto Pinochet's administration, and put Chile's business elite squarely back in power. But he lacks a legislative majority, and reconstruction will be very expensive.
Still, Chile's rainy-day fund has $11 billion in overseas liquid investments, and more than $3.5 billion in damaged property is not only insured, but reinsured abroad. "Because Chile is a country where markets work and people insure themselves, all of a sudden you have the equivalent of $3.5 billion in foreign aid coming in," said Raul Rivera, president of Chile's Innovation Forum.