China Tuesday expressed "grave concern and worry" over the International Criminal Court's (ICC) indictment of the Sudanese president for "genocide and war crimes" in Darfur.
Foreign Ministry spokesman Liu Jianchao urged the international community to exercise prudence in the issue and help stabilize the Darfur regions, instead of complicating the situation further.
ICC prosecutor Luis Moreno-Ocampo indicted President Omar Hassan Al-Bashir of "genocide, crimes against humanity and war crimes" in Darfur on Monday.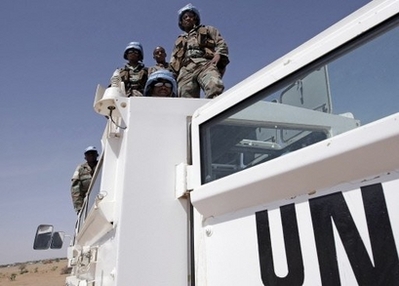 South African soldiers serving with the United Nations-African Union Mission in Darfur stand atop an armoured personnel carrier in Kafod, North Darfur.[Agencies]
A three-judge panel will now decide whether to issue an arrest warrant against Al-Bashir, and the process could take up to three months.
"Since the situation in Darfur is sensitive and critical, we hope relevant parties will act with caution and resolve their differences through consultations and refrain from complicating the Darfur issue further," Liu said.
Reacting to a BBC documentary, telecast on Monday night, which accused China of violating UN arms embargo on Darfur, Liu said Beijing "has never sold arms to any country or region on the UN Security Council's embargo list".
Such accusations are "unfair and incorrect", he said.
The UN Security Council passed Resolution 1591 in 2005, imposing an embargo on arms sales to warring forces in Darfur. It, however, does not have an embargo on selling weapons to the Sudanese government.
The Arab world, too, has reacted sharply to Al-Bashir's indictment. An Arab League envoy said in Cairo that the ICC action was a serious blow to peace efforts in Darfur.
Egyptian diplomat Salah Halima said the move would have a negative impact on the region's stability and that the ICC prosecutor had overstepped his jurisdiction.
Sudan is not a member of the Netherlands-based ICC, the world's first permanent war crimes tribunal.
Agencies contributed to the story