BANGKOK - Political tension in the Thai capital remained high as thousands of people who joined a continuous anti-government rally organized by the People's Alliance for Democracy (PAD) confronted with riot police in central Bangkok Saturday.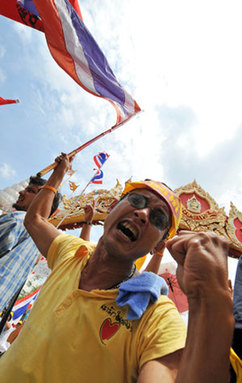 A protester waves a Thai national flag in a rally to oust the government of Prime Minister Samak Sundaravej in Bangkok May 31, 2008. Samak said on Saturday he will crack down on mounting anti-government protests that have ignited fears of a military coup. [Agencies] 
By 11:30 pm (1630GMT), the PAD rally, attended by more than 2, 000 supporters at the Makkawan Bridge near the Untied Nations Economic and Social Commission for Asia and the Pacific (ESCAP) headquarters in central Bangkok, stayed peacefully,
No clashes were reported yet, but the several hundred riot police stationed around the rally site have not retreated, either.
The site, centered with a temporary stage where PAD speakers delivered messages against Prime Minister Samak Sundaravej's government and put on signs that read "Thaksin Get Out", were blanked off by police.
Riot police armed with masks, batons, steel helmets and shields began trooping into the rally site before 4:00 pm (0900GMT) Saturday by police trucks and buses, and other police and soldiers had reportedly stood by pending order from Samak, who is also Defense Minister, to disperse the PAD-led rally, which kicked off last Sunday and continued day and night to protest against the Samak government, which the PAD labeled as a nominee of the coup- ousted Premier Thaksin Shinawatra.
Thousands of PAD supporters have blocked traffic in front of the ESCAP compound on the Ratchadamnoen Avenue, a major artery in Bangkok where major government agencies, including the Government House and cultural landmarks, locate.
The PAD delivered speeches denouncing the Samak government. Supporters waved Thai national flag, joined the speakers in singing the national anthem and folk songs, while chanting anti- Samak or anti-Thaksin slogans.
Some PAD demonstrators said that the group had prepared home- made explosives to be used against police if they use force. Some protesters were armed with home-made clubs and wood shields to confront with the anti-riot police confronted each other behind barricades.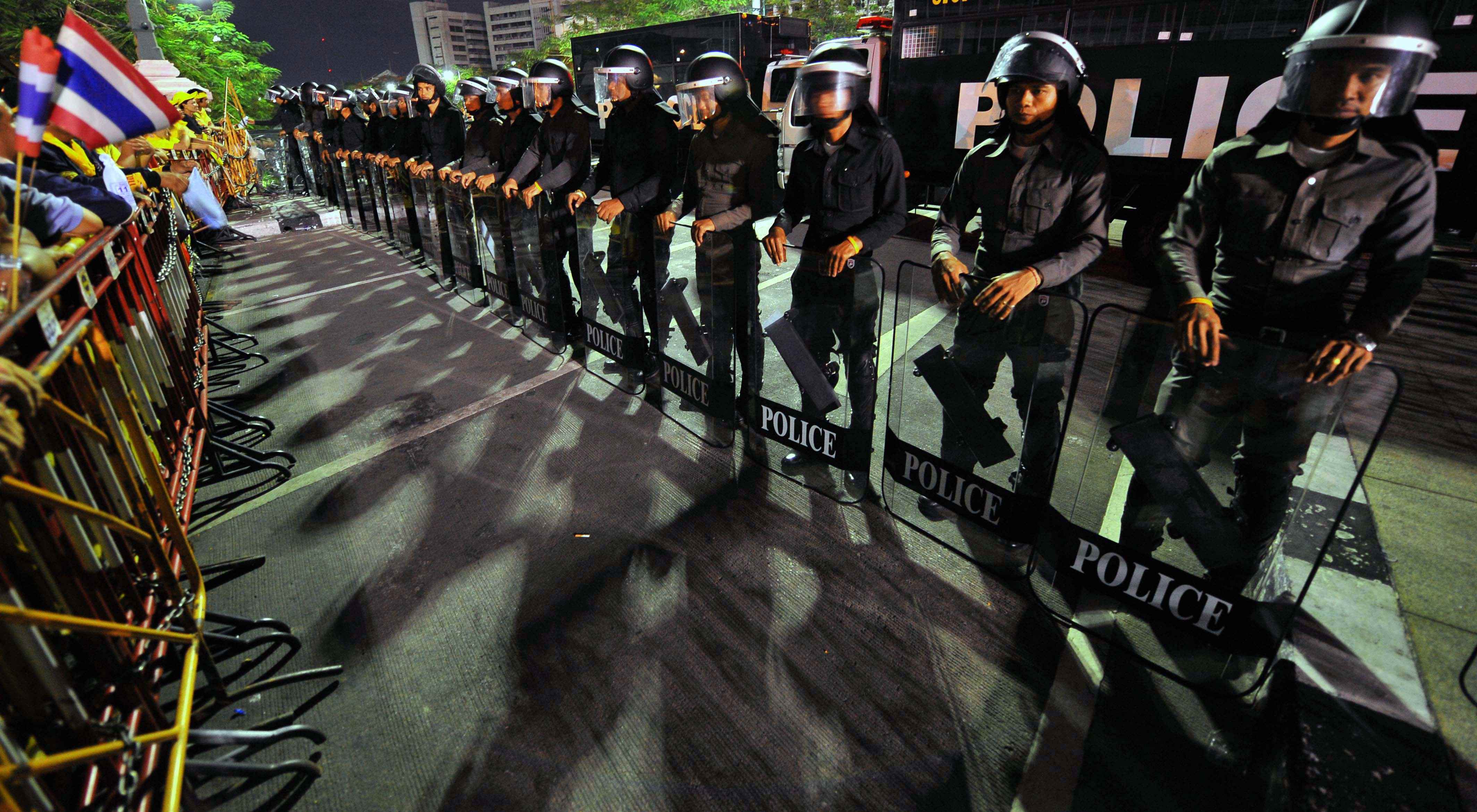 Police block the anti-government crowd near Government House in Bangkok May 31, 2008. Thai Prime Minister Samak Sundaravej said on Saturday he would crack down on anti-government protests that have ignited fears of a military coup. [Agencies]
A unknown number of plainclothes police were believed to have been deployed to the area. A police statement issued earlier on the day said the protesters had been accumulating flag poles, iron pipes, baseball clubs and slingshots as weapons and tends to instigate violence.
Deputy police spokesman Pol Maj Gen Surapol Thuanthong earlier said police were talking to leaders of the PAD in a bid to persuade them to remove the rally site from the avenue to some open ground.
But the PAD appeared unswayed as the rally went on at the site until late night.